Matt Stephens cracks a ton with Jakarta
Tuesday, August 30 2011 @ 03:20 pm ACST
Contributed by: Aaron Richard
Views: 2,717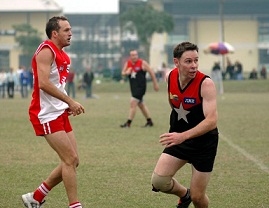 To most AFL players an annual Perth to Brisbane away fixture represents the ultimate taxing football road trip.
Spare a thought then for Jakarta's Matt Stephens who chalked up his 100th International game at this month's Bangkok 2011 Asian Australian Football Championships, the first player to do so for the club.
Matt's remarkable international football journey commenced following a successful career with the Ainslie football club in the ACT. His subsequent move to Jakarta has seen him play his away fixtures in places as diverse as Tokyo, Singapore, Bangkok, Kuala Lumpur, Bali, Vientiane, Shanghai, Hong Kong, Manila, Hanoi and Ho Chi Minh City. The tournament nature of Asian footy season has also seen him line up against Timor-Leste, Dubai, Brunei and a number of Australian touring teams.
Thanks to Rob Spurr for this report.
PHOTO: Matt Stephens (right of photo) in action for Jakarta against the Vietnam Swans.
The Jakarta Bintangs (Stars) Football Club was formed in 1995 with the objective of providing a football outlet to the many Australians living in Indonesia's bustling capital.
Matt's arrival in 1999 quickly translated into team success with a win in the inaugural 2000 Asian Australian Football Championships, defeating the fancied Hong Kong Dragons in the final of the tournament. The feat was repeated in Singapore in 2002, this time at the expense of the tournament hosts, the Singapore Wombats.
Playing in the centre, Matt captained the club for two stints 1999-2001/2006-2008, coached from 2003-2005 and is the club's only 3 time Best and Fairest winner.
Apart from the Championship wins, Matt has enjoyed many highlights over his 12 year international career.
"Participation in the Narita (Tokyo) Cup in 2004 where Jakarta was narrowly defeated by the all Japanese Samurais, helping to set up a flourishing Indonesian junior program and the poignant 2003 Bali tournament played on the first anniversary weekend of the tragic bombings are certainly things over the journey that I will never forget" according to Stephens.
"Jakarta's incredible AFL Grand Final breakfasts have also been a highlight and have drawn up to 700 people in the past. The function enables the club to support many local charities and grass roots Indonesian footy development. The support received from a legion of current and retired AFL stars who give their time travel up for the event has been amazing".
The 2011 Asian Championships were to be Matt's final tournament for the Indonesian side as he relocates to Delhi later in the year.