AFL India: some progress being made
Monday, February 13 2012 @ 10:15 am ACDT
Contributed by: Ash Nugent
Views: 3,365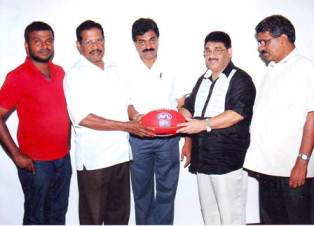 The India Tigers were somewhat of a surprise appearance at the 2011 International Cup. At their international debut at the same tournament three years earlier, the team failed to win a match and upon their return to India, the governing body disbanded. Whilst interest in the sport amongst the players was strong, channelling this interest into structured clubs participating in regular matches would prove impossible in the short term.
The AFL's decision to again support an Indian squad, without any visible progress between 2008 and 2011 was controversial. Will this support pay off? We explore the progress football is making in India post IC11.
Kolkata, West Bengal

Almost the entire India-based contingent of the IC11 squad was based in Kolkata. Training sessions are scheduled to commence in late February 2012. These clinics will receive a boost in March when Mayank Shah, one of the Melbourne-based players, visits the city.
Kozhikode, Kerala

WFN first reported on Rajeev Tharani promoting footy in Kerala in May 2011. Tharani was supposed to be a part of the India Tigers squad for IC 11, however he was a last-minute withdrawal after being involved in a motorbike accident. Fortunately he has fully recovered and his clinics have resumed. These clinics have now been held in six schools. Apart from reaching more schools in 2012, early plans underway for an Under 19s Beach Tournament.
Elsewhere in India

One of the Melbourne-based India Tigers players, Priyank "PM" Chokshi has since returned home to India permanently. He plans to have a program running in Ahmedabad, Gujarat by 2013.
Similar plans are underway in Chennai, Tamil Nadu where the Cardiff Panthers-trained Srinath Lakshmaiya resides. Also in Tamil Nadu is the work of Rick Shrowder, via Global Community Sports.
AussieX is preparing to launch in India with the support of 2008 Olympic Gold winning shooter Abhinav Bindra, and a few former Australian cricketers.
UK

AFL India President and India Tigers Captain Sudip Chakraborty is currently studying in the UK. He was a guest at the AFL Great Britain 2011 Conference and has been invited to play for the Wolverhampton Wolverines in 2012. Exposure to a successful governing body and club will hopefully assist Chakraborty develop AFL India when he returns home.
Richmond Tigers Connection

Richmond supported the India Tigers at IC11, providing their playing kit and hosting the team for a training session and dinner at Punt Road Oval. The club's Multicultural Development Officer, Todd Sigalas assisted with clinics for the Melbourne-based players.
This support was part of the club's plan to connect with the Indian community in Australia. Part of this plan also saw Indian cricketer Rahul Dravid at Punt Road on Christmas Eve. Recently Richmond CEO Brendan Gale publicly stated the club's desire to play a match in India.
Melbourne

Finally, the Melbourne-based India Tigers contingent remain keen to play footy. Plans are underway to establish a predominantly Indian football team in Melbourne. At this stage the "club" is aiming to apply for 2013 entry into the VAFA's Club XVIII.