The battle for Asian footy\'s most coveted title returns to Thailand
Tuesday, August 07 2012 @ 03:17 am ACST
Contributed by: Luke Anderson
Views: 1,930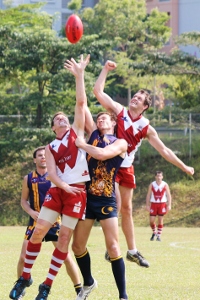 Bangkok airport will be overrun by flying Sherrins and Aussie Rules banter this coming weekend as nine nations descend on the land of smiles to fight out the fourteenth annual Asian Australian Football Championships. It will be the fourth time the Thailand Tigers host the largely ex-pat dominated tournament affectionately known as the 'Asian Champs'. In a change from previous years, Pattaya has been selected as the host city over traditional venue Bangkok.
The most up-to-date list of competing teams is as follows: Bali Geckos, Jakarta Bintangs, Hong Kong Dragons, Singapore Wombats, Laos Elephants, Malaysian Warriors, Thailand Tigers, Phillipine Eagles, and Vietnam Swans.
The full-day tournament is often played in sweltering Asian heat making player management, a sizable playing list and shrewd coaching moves just as important as the individual efforts on the field. 2011 saw the Vietnam Swans, Hong Kong Dragons, Indonesia Bintangs and Singapore Wombats emerge as the top four teams from the group stages to square off in the semi-finals. The Dragons and Wombats would eventually win their way through to the Grand Final, Singapore victorious over Hong Kong in a tough match to claim a record fifth crown.
The region's 'Big Three' of Singapore (5), Hong Kong (3) and Indonesia (2) currently lay claim to ten of the thirteen championships. No other participating team has been able to break through for the coveted title. While the regular season form of touring teams is always hard to gauge as squads vary greatly while abroad, the Malaysian Warriors have impressed in 2012 with some eye catching performances both at home and away. The addition of former St Kilda ruckman Michael Rix and an injection of classy youth in the midfield have led to the team's most successful year to date; claiming the Manilla 12's Cup back in May. It all bodes well for the weekend's action and one of the closest and most unpredictable battles for the cup in years.