Komazawa Magpies, Buddhism and Footy
Thursday, September 06 2012 @ 09:27 pm ACST
Contributed by: Cam Homes
Views: 2,583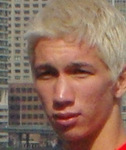 The Komazawa Magpies Australian Football team in Japan has links to Buddhism, as all the team's players are either students studying at, or are graduates from Komazawa University in Tokyo, Japan.
Komazawa University is one of the oldest universities in Japan, established in 1592 as a seminary and a centre of learning for young monks of the Soto sect, one of the two main Zen Buddhist traditions in Japan.
The University has around 1600 students and amongst it faculties and departments you will find Zen Buddhist Studies, Literature- Japanese, English and American, Economics, Law, Business Administration and Health Sciences on the curriculum. Notable alumni include Zen Masters, national football players, manga artists, a pop singer and some professional baseball players.
The Komazawa Magpies club was founded in 2004 and currently has around 15 players, all Japanese. The club tends to have a high turnover of players, as many students are unable to continue playing after graduation from university, although the longest serving player, over 50 game veteran Toshiki Matsuhashi, has been playing longer than all the others can remember.
Rookies this year are Sohei, Daiki Yoshimura, Koudai Kishimura, Kouhei and Shinichiro Nakayama all only playing footy for about 4 to 5 months.
In 2011 the Magpies achieved their highest rank in the Japan Top League, 3rd place, although they did defeat the eventual Premiers, Osaka Dingoes in Round 5 of the season.
2011 also saw seven Magpies suit up for the Samurai at the International Cup. They were Shotaro Tada, Hiroki Ichinose, Ken Sato (pictured), Hitohito Terasawa, Mitsugu Kazawa, Hisayoshi Oura and Masaya Nakamura. Masaya also played at IC08. Ken Sato was named in the Forward Pocket in the World Team.
Like so many clubs in World Footy the Magpies train on a public baseball park and home games are played at a local Rugby Club ground. They have gathered a small supporter group who manage to get to most home games but their number one supporter and sole support staff is club stalwart Momoko Yasunaga. She attends every training and is trainer, ankle/shoulder strapper, masseuse, runner and tends to all the players injuries, aches and pains.
Thanks to Ken Sato for assistance with this article.