AFL Port Moresby BSP premiership decided for 2012.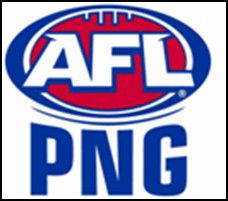 Around 2000 spectators enjoyed the sun and action at Amini Park in Port Moresby for the 2012 season decider that matched the Moore Printing University Tigers against the Remington Gordon Kokofas. The BSP - Bank South Pacific - season reached a fitting climax with a hard faught Grand Final in warm sunny conditions.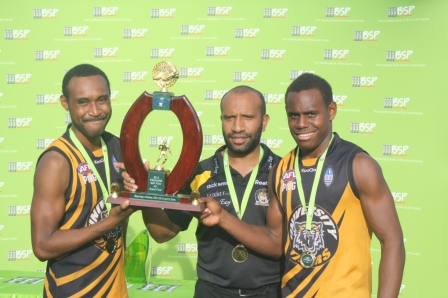 The day kicked off at 9am with the juniors, with U/13s and U/15s plus a girls' game followed by the now traditional 'old boys' game which was played in tremendous spirits. Ben Drew for AFL PNG takes up the story : "BSP CEO Mr Ian Clyne lined up at full forward and nearly jagged one early from the pocket, First Secretary Australian High Commission Mr Tim Bryson brought a team of Australian High Commission workers down for the game,to play and most believe he may have turned back time for a best on ground display! PNG Legend Uncle William Yogomin put out a terrific display of skill and running ability on the wing."
The main game was tight all day with no more than a goal in it, until the last 5 minutes when the Tigers broke the game open with a match winning burst of 4 goals.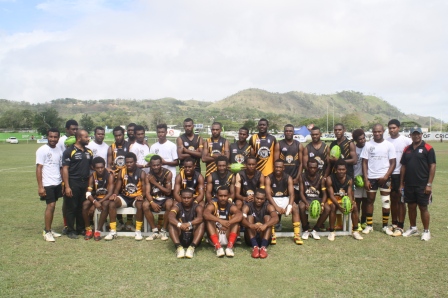 Tigers 8.8.56 def Kokofas 3.8.26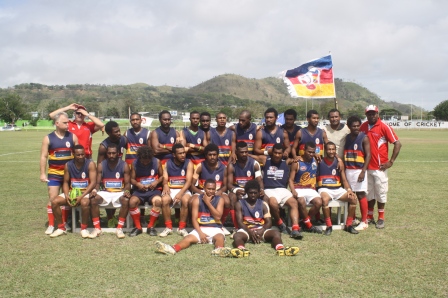 John James from the Tigers was voted best on ground in the grand final. Closely followed by Laurie Logo and Scott Johnson. JJ Peni also had a terrific game in the Grand Final.
Best for the Kokofas was Brendan Beno, he had the ball on a string all day and fought very hard for his team kicking 2 of their 3 goals, Paul Philip and Ali Pinda were also excellent contributors for the kokofas.
AFLPNG would like to thank Rex and Douglas for their brilliant umpiring display in the grand Final and all volunteers that have helped out during the season.
Action from the main game.