Ivan Marić joins the Croatian Knights as Ambassador
Friday, February 01 2013 @ 08:45 am ACDT
Contributed by: Aaron Richard
Views: 7,104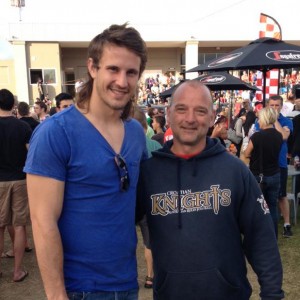 The Croatian Knights have announced that Richmond AFL star Ivan Marić has proudly accepted their offer to become ambassador for the Croatian national Australian rules football side.
One of the best-known AFL players from a Croatian family background, Ivan began his career in the Adelaide Crows before moving to the Tigers, and is described to Croatian audiences on the FootyCroatia website as being known for his strong and courageous "old school" playing style.
The Croatian community in Australia has produced many AFL stars, including Alan Didak, brothers Glen and Allen Jakovich, Peter Sumich, Matthew Pavlich, Darren Gaspar and Jon Dorotich to name just a few. They have also made a huge impression in other Australian sporting fields, including Andrew Bogut (basketball), Mark Bosnich (soccer) and Simon Katich (cricket). Famous actor and diehard St Kilda fan Eric Bana (real surname Banadinović) is also of Croatian background.
The Knights hope that Ivan's high-profile support will help them in their quest to debut at the International Cup in 2014.