AFL India creates government links in the states of Gujarat & West Bengal
Friday, February 22 2013 @ 08:43 pm ACDT
Contributed by: Sudip Chakraborty
Views: 2,845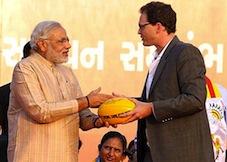 Australian Trade Commissioner and Vice President of Australian Rules Football Association in India, Tom Calder, was special guest at the closing ceremony of the "Swarnim Khel Mahakumbh" in Ahmedabad, a mass scale sports carnival organized by the Gujarat state Government as a part of the program to celebrate 50 years of the formation of the West Indian state.
Participation at the event saw nearly 1.3 million participants of various ages competing in 24 different sports at 1,100 venues across the state. The event is the brainchild of Chief Minister Narendra Modi who has a strong pro-sports agenda and who declared in his speech that the carnival would become an annual event.
During his speech at the event Tom asked the Chief Minister to consider promoting the unique Australian sport in Gujarat as a way of increasing Australian-Gujarati sports links and presented an AFL India branded Sherrin to him on stage (pictured at left).
Tom, who is a Saints tragic and a passionate supporter of Footy in India, received some strong interest in exploring AFL further at the event, including AFL India conducting a two day workshop for PE teachers in Ahemadabad.
AFL India had earlier earmarked Gujarat as a state with good potential to kick off footy and now has a great starting point with the highest possible source in the state, Narendra Modi, who is tipped by many as the Prime Ministerial candidate for the opposition party in India, for the upcoming national elections in 2014.
Also in the state of West Bengal, the place where it all started back in 2008, I got the opportunity to introduce Footy to the Sports Minister Mr. Madan Mitra (pictured below) recently.
Both these links have paved way for registering the state associations in the respective states in near future, with activities up and running in Gujarat from the end of this month.
Football diplomacy at its best!!