AFL Japan Office Opens
Saturday, March 09 2013 @ 06:53 pm ACDT
Contributed by: Cam Homes
Views: 1,822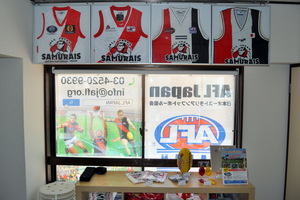 With no MCG, Aami Stadium or even a Norwood Oval to call their own, AFL Japan's Top League play matches on rented rugby grounds and public parks as do most footy leagues and clubs outside Australia.
The amateur nature of the international footy community has most leagues and clubs playing and/or training on borrowed school or university sports grounds, public parks or any flat* (or not so flat) paddock or river bank they can find.
However, AFL Japan has taken an almost unprecedented step in international footy by opening its own office and shopfront in Tokyo. Opened at the start of 2013 the AFL Japan Office is where all the day-to-day business of AFL Japan takes place, and storage of merchandise and equipment.
Open 9am to 6pm Monday to Friday, the office is a physical presence for Australian Football fans in Japan where the public (curious or committed) can walk in and purchase a wide range of AFL Japan and/or Aussie Football merchandise eg. Guernseys, books, DVDs and "Sherrins" or have queries about Japan Footy or AFL answered.
The office is situated at 27-9-101 Denenchoufu-Honcho Oota-Ku, Tokyo. A short 3min walk from Numabe Station, Tokyo Tamagawa Line.
Phone 03-4520-9930.
For more (in Japanese), visit http://www.jafl.org/topics_detail1/id=276.
*Vanuatu AFL have their own full size oval but crab holes have to be filled in before each day's play.