Big ANZAC weekend for Asian footy
Tuesday, April 30 2013 @ 09:04 am ACST
Contributed by: Shane Hendrickson
Views: 2,844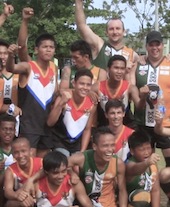 This ANZAC weekend proved to be a blockbuster for Australian football in Asia, with international East Asia Australian Football League (EAAFL) matches played in two countries, and many domestic matches played across the continent.
The Vietnam Swans hosted the Jakarta Bintangs in Vung Tau, while the Singapore Wombats hosted both the Malaysia Warriors and Cambodian Eagles. There were important domestic ANZAC matches played in Indonesia, Thailand, Japan and Philippines.
The Swans were defeated by the Bintangs in a close match at the old Lord Mayor's Oval in Vung Tau. The field is inside a greyhound racing track, but was the very same oval where Australian soldiers played footy during the Vietnam War. The significant event even attracted the presence of three Vietnam Veterans who had graced that very field in the 1960s.
Jakarta won the match 10.9 (69) to Vietnam's 8.11 (59), marking a win for Jakarta's first EAAFL match in front of over 500 spectators. This leaves Vietnam winless after their third EAAFL match.
At the same time in Singapore, the Wombats hosted the Warriors and the Eagles, in a tri-nation cup to celebrate the 20th anniversary of the Singapore Wombats. The day also saw the EAAFL debut for the Wombats, who managed to use their home field advantage to remain undefeated, winning by 16 points against Cambodia and eight against Malaysia. The consolatory match between Cambodia and Malaysia ended in a draw, showing just how close these teams are.
The Thailand Tigers played a domestic match in Kanchanaburi near the infamous Bridge on the River Kwai, while the Eurekas and the Dingoes from the Philippines Australian Football League played for Filipino ANZAC honours. The Osaka Dingoes defeated the Nagoya Redbacks the weekend before by seven goals in Toyota City, Japan.
In a first for Indonesia, the Borneo Bears played an entirely Indonesian team against the Jakarta Garudas, who were also composed of entirely local players. The Garudas took the inaugural win in Balikpapan, Borneo, with a slim but well deserved victory over the Bears.
With such strength in local numbers, the future is beginning to look promising for Indonesia to debut at the 2014 International Cup. The event was then followed by an evening with special guests including AFL greats Robert "Dipper" DiPierdomenico and Garry Buckenara and former Wallabies head coach John Connolly.
ANZAC Day is no longer just a big day for sports in Australia and New Zealand, but a big day for sport wherever Australian football has managed to flourish.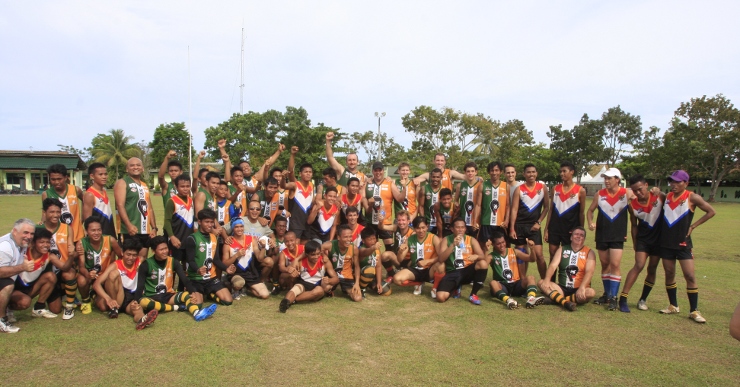 Borneo Bears and Jakarta Garudas - Borneo ANZAC Day Cup 2013