South American update - Santiago Saints look to youth
Tuesday, May 07 2013 @ 06:08 pm ACST
Contributed by: Daniel Boyle
Views: 2,771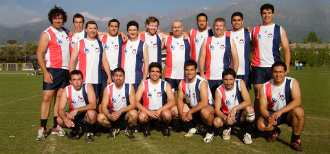 An update from the Santiago Saints, based in Santiago de Chile.

The Saints have now been a club since 2008, with a mix of Chilean and expat players. We have had a number of players visiting or living in Chile involved with the mining industry and this has seen players with experience in the lower leagues in Australia pass on their knowledge to other players.

2012 saw a great charity match, with huge support from the Australian Embassy as well as other sponsors.

In 2013 the club is looking to lock in sponsors for a long term period, ensuring stability for the future.
The biggest development in 2013 has been the addition of an Auskick style program, held every Sunday ahead of the regular training session.

The sessions have been well attended by a mix of Chilean and Australian children.

The club has training every Sunday (10am for juniors, 11am for adults) at the ex-Craighouse fields.

More information about the club can be seen at Santiago Saints.
Editor: the Saints would love to have more contact from other people and clubs in South America who are interested in Australian football. They also haven't ruled out a run at the 2014 International Cup.