A veteran of Japanese football – Takaaki Seto
Friday, October 25 2013 @ 11:50 pm ACDT
Contributed by: Wesley Hull
Views: 2,371

With the kind assistance and generosity of Jonathan Cooper and the Osaka Dingoes Australian Football club, the following article is an interview with one of the icons of Australian Rules football in Japan. The answers to the interview questions have been produced in both English and Japanese out of respect for the loyal national readership in Japan and so that the current University players can read his message and follow in his footsteps.
With the development of the game of Australian football in Asia high on the agenda of the current AFL administration, we thought we would interview and share with you the thoughts of the Dingoes' Takaaki Seto, a man who has been involved in Japanese football for twelve years now and who was influential in establishing the university football system in Japan.
'Seto' as he is more commonly referred to, is currently a back pocket at the Osaka Dingoes and has represented Japan at the 2002, 2008 and 2011 International Cups. He won the Peter Wilson medal for league best and fairest in 2007, and won the Osaka Dingoes' best and fairest award in 2012.
1. When were you first introduced to the game and what made you follow the Aussie Rules pathway.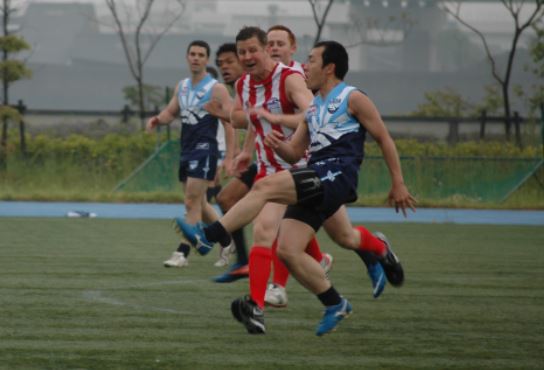 始めてAFLの試合を楽しんだのはいつですか?またどんな点があなたを熱中させましたか?
When I was in my first year of university, I joined in a game of Australian football for the first time. The game was played against the Tokyo Goannas. Australian football had hard tackling like in rugby, beautiful kicking like in soccer, and breathtaking aerial battles like in basketball. These aspects of the game quickly led me to be fascinated with Australian football.
大学1年生の時に始めて 試合を体験しました。対戦相手はゴアナーズでしたがラグビーの様な激しいタックル、サッカーの様な綺麗なキック、バスケットの様な激しい空中戦にすぐにこのスポーツの虜になりました
2. How would you describe your involvement with Australian Football?
あなたとAFLの関わりついてどのように書き表せますか? 期待、要求、ハイライトなど
When I was in my first year of university, there were only nine players on the Japan Samurais Australian Football team. We travelled overseas, but we did not have enough players for games, so needed to borrow players in order to play. As well as hard training everyday, we also needed to work hard on recruiting new players and visited all universities in the greater Tokyo area.
Then, when I was in my fourth grade of University, our efforts paid off and we were able to start a university league with 3 university teams. These teams were the Komazawa Magpies, Waseda Leopards and Senshu Powers. (*These are all prestigious universities in Japan)
I am now expecting the current generation of younger players currently participating in the university programs to tell and show their peers what Australian football is and introduce the game to more and more people.
大学1年生でfootyを始めた時はサムライズ(大学生チーム)は9名しかいませんでした。海外遠征に行っても助っ人してもらい試合が出来るという状況。私達は練習と同じくらいリクルートにも力を入れました。 関東の各大学をまわりリクルートする日々でした。その努力も少しずつ実を結び、私が大学4年生の時に3チームによる大学リーグ(駒沢マグパイズ、専修パワーズ、早稲田レパーズ)をスタート出来るまでに大きくなりました。 今後、後輩達に期待する事は1人でも多くの人にfootyの魅力を伝えて日本でオーストラリアンフットボールを広めていって欲しいです。
3. What prompted you to pursue developing the game in Japan?
どんな点が、日本でフットボールを続けるきっかけになりましたか?
Of course I was interested in football because it is a fun and exciting sport, but it is also a great social scene, and I really enjoy mixing with people from all different backgrounds and having fun with everyone involved. These things keep me passionate about my involvement in football in Japan.
もちろんオーストラリアンフットボール自身のスポーツとしての魅力、楽しさが続けている一番のきっかけですが、それ以外に普段の生活では出会う事がない在日オーストラリア人や学生、社会人とスポーツを通して交流出来るのも魅力であり、自分自身がここまで続けている要因です。
4. What have been the biggest challenges and hurdles?
どんな事が一番困難でチャレンジが必要な事ですか?
The most challenging things with regards to football in Japan are recruiting players and finding grounds where we can play games. These are by far the biggest hurdles which we have faced.
日本のオーストラリアンフットボールにおいては、①リクルーティング②プレイするグラウンドの確保 が困難で常にチャレンジしていかなければならない問題だと思います
5. How do you see your progress so far?
今のところ、どのように自身が成長したと感じますか?
It has now been 12 years since I was a first year university student and I was first introduced to the game. Initially, I had no idea about the rules or strategies, but through trips to Australia for training and through participating in international matches, I got to know how to beat players with bigger bodies and learned about the strong points of a Japanese Australian football player (eg. Precision kicking, and agility). I don't think Japanese players are at the same level as Australian players just yet, but by focusing on our strengths, myself and younger players can be more than competitive against international opponents.
大学1年から始めて、今年でfooty歴12年。始めはルールや戦術も分からない状態でしたが、オーストラリア遠征やインターナショナルカップなどの国際試合を経験するなかで体格差のある相手との戦い方や日本人ならではのストロングポイント(正確なキック、素早さ、)を強化しまだまだ互角とまではいきませんが、自分自身と後輩達も世界と戦えるレベルまで成長出来たと思います。
6. What remaining goals do you have for yourself and the Japanese game?
今後、あなた自身、また日本のフットボールの試合において、どのような功績を残していきたいですか?
I will not participate in Samurais matches any more, however I hope to play football for a while longer until my body forces me to retire. I would like to set an example to the younger players and show them that even at my age I can still continue to play football.
自分自身はもう、JAPANサムライズでプレーするつもりはありません。ただ自分の体が動く限り日本のリーグ戦で長くプレーをし続けて後輩達にもあの人がまだやってるなら自分達もプレーをしようと思ってもらえるような環境をつくってあげたいです。
7. Given a choice, would you have been happier to go further at AFL level in Australia, or do you take more pride in seeing the game develop here in Japan?
もし機会があれば、オーストラリアにてAFLレベルまでに高めたいですか?それともここ日本での試合を重ね発展していきたいですか? ➡もう少し若ければオーストラリアで挑戦したかったです。ただ今は日本でオーストラリアンフットボール会を盛り上げたり、後輩育成に力を入れたいです。
If I were a little younger, then I would like to try and play football in Australia, but given my circumstances, I would like to assist the younger players in Japan to improve their skills and would like to help make football famous in Japan.
自分自身はもう、JAPANサムライズでプレーするつもりはありません。ただ自分の体が動く限り日本のリーグ戦で長くプレーをし続けて後輩達にもあの人がまだやってるなら自分達もプレーをしようと思ってもらえるような環境をつくってあげたいです。