AFL-India bags Australian Sports Commission grant
Tuesday, November 12 2013 @ 06:45 pm ACDT
Contributed by: Vineet Basu
Views: 3,545

The 31st October 2013 marked a historic day for the Australian Rules Football Association of India (ARFAI). A successful bid for the Australian Sports Outreach Programme (ASOP) grant resulted in the Australian Sports Commission (ASC) and the AFL Headquarters signing an agreement to pass the grant in favour of ARFAI. The grant will help the ARFAI develop Aussie Rules Football in India with help from partner organisation Magic Bus - India.
The launch of the agreement was hosted at the Australian High Commission in Delhi. The grant was passed to assist focused development of Footy in the states of Maharashtra, Rajasthan and Jharkhand. ARFAI in this period will be working in close quarters with Magic Bus, India which is an international sport NGO helping unprivileged children using sports as a medium to relay social messages. Apart from the social programmes, ARFAI will also engage in educational programmes in other states as well through the India chapter of Global Community Sports (GSC) which is a company conducting educational and global cultural exchange programmes using Footy as the medium.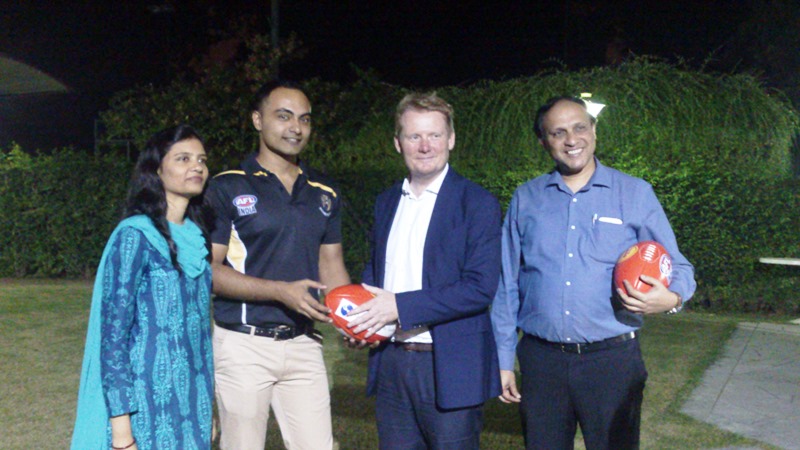 The 10 months long programme was inaugurated by the Australian Deputy High Commissioner, Bernard Philip. Bernard, a Richmond Tigers fan himself, was very forthcoming in his desire to give the ARFAI initiative all the support it craved for. The event was also attended by Rekha Dey, the ASOP India Coordinator. The ARFAI Secretary General, Sudip Chakraborty for whom it was a momentous event, spoke of his journey for the past 5 years which has seen him travel the length and breadth of the nation trying to promote the sport in India, with nothing but his passion for the sport to drive him on. Sudip thanked ASOP for giving ARFAI the opportunity to employ 7 development officers (including himself), who in the next 1 year will develop Footy in India under a professional setup.
The Australian Trade Commissioner, Tom Calder and Pratik Kumar, CEO of Magic Bus India also graced the occasion. Novy Kapadia, renowned sports journalist in India, was special guest at the launch. Mr. Kapadia spoke of the importance of grass-root development in sports and how he thought Footy could be a part in the process. The event, which was covered by various national media houses, also hosted Indian and Australian corporate big-shots who were invited to support ARFAI endeavours in the future. Incidentally, Tinku Grewal of Musashi India announced his support for ARFAI henceforth to start off with in-kind sponsorship and he expressed his interest to support Aussie Rules in India in a bigger way in the future. It would appear that Sudip's efforts for the past 5 years have finally born concrete fruits. The grant will no doubt go a long way in helping ARFAI put the wheels in motion. But the hard work now lies ahead and Footy looks to grow leaps and bound with continued support.