Nepalese footy in the shadow of Mount Everest
Wednesday, November 13 2013 @ 04:35 pm ACDT
Contributed by: Wesley Hull
Views: 3,199

Always on the lookout for news on potential new teams or destinations playing Australian Rules football, I stumbled across the article below about our home grown game being played in Nepal at the base of Mt Everest.
There are many photos of people brandishing their scarves in club colours at one of the base camps or locations prior to their ascent. There is even the occasional photo of someone kicking a ball with the mountain as a backdrop. But this article was different. It looked at the very embryonic beginnings of something that one day may grow.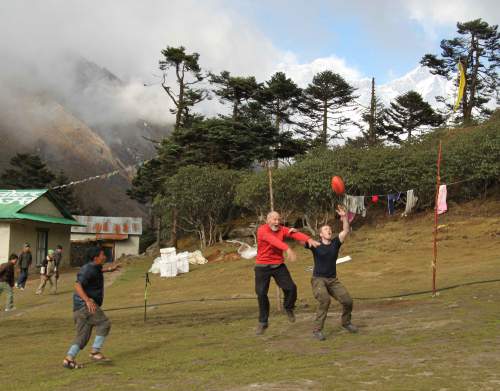 The following article is written by Sydney and Amsterdam based Richard Tulloch, renowned writer of books, plays, film and travel articles for younger audiences, as well as being best known for writing 150 episodes of Bananas In Pajamas. Richard has kindly allowed us to reproduce the article.
"We've been doing our bit to help the march of the greatest game on earth – AFL or Aussie Rules football – across the planet. I can reliably report that it was football played at the highest level – 3880 metres in fact, with Mt Everest as a backdrop.
The Thyangboche Yaks are fearless, agile and incredibly fit, but they still have a way to go in developing basic skills in kicking and hand-balling, and their ground needs a bit of levelling. When the ball goes out of bounds on the western side of the field, the boundary umpire needs to scramble down through the bushes, clear cows out of the way and grab the ball before it winds up in the river.
Once supercoach Kevin Sheedy has finished setting up his new team in western Sydney, he could do worse than head for the hills of Nepal to give the Yaks a few pointers. A Nepali premiership-winning team may be some years off, but we can assure Sheeds he'll have a good time."
As a point of interest, further investigations into the ongoing interest in the game in Nepal unearthed this gem of a link about two eleven year old boys and their journey with an Adelaide Crows footy and a cricket bat. Whilst their motivation is humanitarian, it is also another small piece in a puzzle of Australian Rules footy creeping into Nepal. They can be seen at the following link showing the game to kids in Kathmandu. http://www.youtube.com/watch?v=dzPTQZcqrb4
Should we find any further updates on the Thyangboche Yaks Australian Rules football team's progress, World Footy News will provide a follow up story.
To read more of Richard's work, go to: http://richardtullochwriter.com