Asian footy kicks off for 2014
Sunday, February 09 2014 @ 04:15 pm ACDT
Contributed by: Shane Hendrickson
Views: 4,288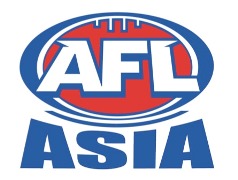 The Asian football year has kicked off with simultaneous games being played around the region in the East Asian Australian Football League (EAAFL) and the South China Australian Football League (SCAFL) for the Australia Day weekend.
The Vietnam Swans defeated the Cambodian Eagles in a dominant performance, winning 13.15.93 to 3.6.24 at RMIT in Ho Chi Minh City in the first game of the year after the festive break.
The match was preceded by an AFL 9s game between Reds and Whites, inviting everybody to get involved for the lower contact version, and included a high percentage of women.
Tony Morwood, former Sydney Swans player and Sydney 'Team of the Century' member, was the guest of honour for the match.
The Thailand Tigers travelled to Vientiane, Laos, to play the Lao National Elephants, a team composed entirely of nationals, and the Lao Falang Elephants, composed of non-Laotians.
Another triple-header took place in Jakarta, with the Jakarta Bintangs, the Indonesian Garudas and the Borneo Bears playing some promising football ahead of the debut of the Indonesian team at the International Cup later this year.
The Garudas defeated the Bears 7.10.52 to 4.1.25 in a match played entirely of locals, before going down to the more experienced, mostly expat, Bintangs 13.7.85 to 1.3.9. The Bintangs ended the day undefeated with a 9.8.62 to 3.3.21 win over the Bears, a big relief for new Bintangs coach, Adam Bray.
The future of Indonesian football looks bright, with about a third of Saturday's 130 attendees attending their first Bintangs event, and the Bears and Garudas players fighting it out for a spot to play in the first International Cup side.
On Sunday six teams of the SCAFL - the Hong Kong Typhoons, Hong Kong Cobras, Lantau Lizards, Guangzhou Scorpions, Guangdong Seagulls and the Macau Lightning - met in Hong Kong for the first round of the season.
This is the first season for the Seagulls in the SCAFL, having just won the premiership in the inaugural season of the Guangdong Australian Football League, a league composed of local university players.
After two matches each, the debutants went home winless, as did Macau, whilst the Scorpions and Cobras finished the day with a win each and the Lizards and Typhoons finished undefeated.
The Australia Day weekend in Asia is no longer just about Australian expats, with four entirely local teams contributing to what promises to be an exciting year of Australian Rules football in Asia.
Below: A Borneo Bears player gets a kick away under pressure from a Jakarta Bintang.