Login to WFN with Facebook
Sunday, June 29 2014 @ 10:03 pm ACST
Contributed by: Brett Northey
Views: 8,156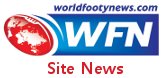 worldfootynews.com is pleased to announce that we are now allowing users to log into our site via their Facebook account.  We hope this encourages more reader interaction and commenting.  Simply click the "Login with Facebook" logo on the left hand side of worldfootynews.com and follow the prompts (assuming you are not already logged in to worldfootynews.com already).
Please note that we anticipate some issues with this method, such as increased spam, so it's quite possible we'll revoke this feature at some time in the future.
Also note that existing users who have already created a worldfootynews.com account previously will find that if they now login using Facebook it is in effect a separate account with no history of their previous contributions.