A decade of World Footy News
Saturday, July 26 2014 @ 11:05 am ACST
Contributed by: Brett Northey
Views: 4,568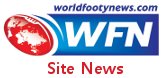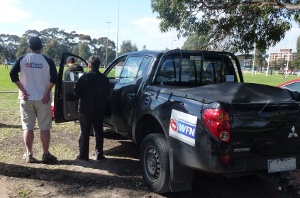 Today marks 10 years since World Footy News ran its first story.
In fact it was simply a message announcing our arrival and it wasn't until the next day that we ran our first proper footy story: 2004 Season Review - Australian Football League Germany
Since then WFN has published nearly 4700 stories, at a bit over one per day. The most popular in terms of reads is the review of the 2002 International Cup with over 167000 views.
The site was founded in 2004 by Aaron Richard and myself when we saw a void in reporting on the growth of the international side of Australian football. Just as we are now, we were keen to see the sport grow both in Australia and around the globe and wanted to support the international leagues, raise awareness in Australia of their efforts, and help with the cross-pollination of ideas to build a successful world footy community.
Back then there were far less club and league websites, Facebook was in its first full year but just open to US college students, and social media probably only meant journalists having a chat together.
Over the journey we've had the pleasure of growing along with the game's international presence. Numerous writers have come and gone as life takes them on various journeys but we've always been lucky enough to have some core dedicated volunteers to keep the site ticking over. Mentioning names risks hurting feelings but I am keen to acknowledge the great work being done by Troy Thompson, who has been with us for a long time and more recently has stepped up to shoulder the bulk of editing duties and is coordinating our 2014 International Cup effort.
Speaking of which, it has always been a delight for us to get as many staff together as possible to cover the Cups every 3 years and meet some of the wonderful players and administrators from around the world. In a way I've always seen WFN as similar to an international footy club. We aren't quite mainstream, we're pushing the same cause, run on a shoestring budget, we rely entirely on volunteers who will come and go, there's never enough spare time in a day to do everything we want, and in the end the rewards are primarily about trying to enjoy what you do and hope that you've made a difference.
Personal highlights, besides the International Cups, include seeing the rapid growth across South Africa and the South Pacific, the formalizing of AFL Europe, and some of the personal contacts and individual stories along the way. Working with the AFL, sometimes closely, has been interesting and revealing about the way what is perceived as one big shiny monolith is of course really an organization of individuals doing the best they can and still within a budget that is a very small fraction of the entity as a whole.
It's also been rewarding to have had people involved in the World Footy News family go on to play important roles in international footy, such as Jake Anson's involvement in the early days of women's footy in Canada and Ash Nugent's work to keep Indian football alive before going on to co-found the Masala Football Club in Melbourne.
So thank you to everyone who has contributed to WFN over the past ten years, be it one story, one tip off, one shared link, or a 100 stories. We can only exist because of your efforts.
And thank you to all our readers. I hope we've achieved some of our goals and can continue into the future. You can help us by linking to us, be it your league or club website or Facebook, and telling your friends. We also love to get people logging in and commenting on stories. To anyone that thinks they'd like to join the cause or perhaps is retiring from a role internationally but wants to still be involved somehow, feel free to contact us and see if we can use you to keep reporting from Australian football's global frontier.
A few thoughts on the future. This should be the subject of a larger article, but in brief, where might we realistically hope to see the game go over the next ten years? Personally, new countries getting started is always exciting so hopefully we'll see a few more join the sport. South America in particular is a largely untapped area that deserves some more seeding. But just as important is consolidation and I'm very hopeful that we'll see leagues such as in London, Auckland, Ontario, Vancouver and Port Moresby grow to have 8 to 10 clubs with second and even third divisions plus under 18s, and country-wide leagues such as in Germany and France have regional divisions with 6 to 8 clubs each, and some of the US metro leagues blossom into full multiple division leagues of their own. Having several international rookies become genuine AFL stars will also help the cause, as will further AFL investment across the world, and finally I think it's vital that the AFL heavily invests in football in New Zealand with a genuine plan to introduce an AFL club no later than 2030.
What of WFN's future? Well we're not planning on going away, and I hope we continue to grow our readership, continue to have your support, and who knows, maybe one day we'll be a shiny bright professional organization bringing all the international footy news to millions of fans around the world.