Andrew Embley to coach inaugural All Indochina Australian Rules Football team
Thursday, July 24 2014 @ 10:40 pm ACST
Contributed by: Wesley Hull
Views: 2,358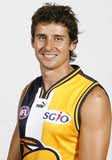 AFL ASIA MEDIA RELEASE
2006 Norm Smith Medallist, Andrew Embley, from the West Coast Eagles has signed on as the inaugural coach of The Indochina All Stars, a combined football team of nationals from Thailand, Cambodia, Laos, Vietnam and Myanmar.
The team will play its first match in Thailand on Saturday, 16 August as part of the Indochina Cup, now in its 8th year. It is expected that the team will develop over the next three years and compete in the International Cup in 2017 in Melbourne.
Andrew who had an illustrious 15 year career at the West Coast Eagles is excited about getting involved in Asian Football and developing local players over the longer term. Andrew has Anglo/Burmese ancestry with both his Grandparents and Father being born in Burma (Myanmar) migrating to Perth in 1964.
The idea for an all Indochina Team was the brainchild of Thai player, Rut Ngarmariyakul from the Thailand Tigers who regularly flies from Chiang Mai to Bangkok just to train with the Tigers, such is his enthusiasm for Aussie Rules.
"It's great that AFL Asia has been able to make this happen. The players from all teams in Indochina are really excited about the opportunity to play under a Norm Smith Medallist in Andrew Embley. This will be a big step for Indochina players and a big part of developing Australian Rules Football in Asia" says Rut
AFL Asia's President Phil Johns said that "we look forward to welcoming Andrew and introducing him to inspiring local players like Rut. He will see that footy is growing in Asia – and the energy is contagious".
Johns added that "the Indochina All Stars team is a great example of Australians, who work in the region, successfully integrating with the nationals of the host countries. As the relationships develop, so too does the significance of AFL Asia's professional network across Asia."
Also in August, but back in Melbourne, five Asian teams will compete in the AFL's International Cup. The day after the Indochina Cup, AFL Asia will host an event in Port Melbourne to celebrate those five teams as well as the organisation's 1st birthday.
It is an exciting time for football (of the Australian Rules variety) in Asia.