IC14 Preview: India looking to build
Sunday, August 03 2014 @ 10:31 pm ACST
Contributed by: Ash Nugent
Views: 3,545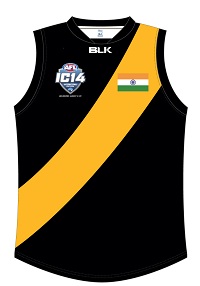 India returns to Melbourne for their third successive International Cup. Their first visit Down Under resulted in a series of heavy losses, however at the last tournament the team displayed improvement and secured their first-ever victory, against East Timor.
Once again only half the squad will travel from India, however this time the travelling party are official participants in the Australian Rules Football Association of India, representing three of its clubs; Bengal Tigers, Maharashtra Giants and Jharkand Crows. In addition to this, a number of the Melbourne-based players have had regular match time at Masala Football Club, in the Victorian Amateur Football Association; the club having been born out of India's last International Cup campaign.
The Country and Australian Football

India is the world's second most populous nation (1.2 billion people) and arguably one of the most diverse.
Football arrived in India with former VFL player Brian Dixon in the months prior to the 2008 International Cup. Dixon hoped the tournament would serve as a catalyst for growth of the sport in India. Whilst not in the manner Dixon had intended, such growth did occur, albeit more than three years later.
That growth has been driven by Sudip Chakraborty, a member of the 2008 and 2011 squads and an occasional World Footy News writer. Chakraborty was sufficiently taken by the game to pursue a postgraduate qualification in Sports Management and ultimately establish the Australian Rules Football Association of India (ARFAI).
Since its establishment, ARFAI has launched programs in six Indian states, has seven paid full time roles and has hosted two successful National Championships.

Strengths and Weaknesses

The country now has a formal governing body, although given it is recently established, at-most minor improvement can be expected of the India-based players. Of the Melbourne-based players, most have at least some football experience and a good understanding of the sport's tactical intricacies.
India is fixtured in Pool B, with matches against Tonga, PNG and Pakistan. Based on previous matches, a win against Pakistan is the only likelihood and even this might prove challenging, given the Shaheens extensive preparation.
Team

Player
Club (2014)
Biswajit Das
Bengal Tigers (ARFAI)
Jasim Akhtar
Bengal Tigers (ARFAI)
Jonathan D'Moore
Bengal Tigers (ARFAI)
Md.

 

Fariduddin
Bengal Tigers (ARFAI)
Rakesh Ghosh
Bengal Tigers (ARFAI)
Sk. Arif Ali
Bengal Tigers (ARFAI)
Sudhashil Mitra
Bengal Tigers (ARFAI)
Sudip Chakraborty
Bengal Tigers (ARFAI)
Sukanta Golder
Bengal Tigers (ARFAI)
Darius Fernandes
Bulleen-Templestowe (VAFA)
Dilpreet Singh
Emmaus-St Leos (VAFA)
Mahesh Tirkey
Jharkhand Crows (ARFAI)
Mayur Parmar
Maharashtra Giants (ARFAI)
Saurabh Bhandekar
Maharashtra Giants (ARFAI)
Zuber Baig
Maharashtra Giants (ARFAI)
Anton Mories Jegan Mories
Masala Football Club (VAFA)
Dishan Yogatathinam
Masala Football Club (VAFA)
Fevin Mascarenhas
Masala Football Club (VAFA)
Prakash Kailasanathan
Masala Football Club (VAFA)
Tarak Shah
Masala Football Club (VAFA)
Trevor Banerjee
Masala Football Club (VAFA)
Yasser Hussain
Masala Football Club (VAFA)
Raul Annedi
Old Melburnians (VAFA)
Gurushan Gill
 
Lakshay Totlani
 
Shezmon Madeira
 
Shyamkumar Sharma
 
Sumit Kundu
 
Emergencies
 
Jay Himat
 
Vishnu Rishie
 
 Players to Watch

India-based Chakraborty, Mitra, D'Moore and Ghosh all return from 2011 as do Melbourne-based Banerjee, Madeira, Mascarenhas and Kailasanathan. Melbourne-based players currently aligned to clubs will also be amongst the stronger players.
Bottom Line

Very hard to speculate given the country's last hit out was three years ago fielding a largely different team. In a best-case scenario India will be a low-finish in Division 1. A worse-case scenario and they struggle to match their one win of 2011.