Freedom eclipse Midnight Suns
Wednesday, August 13 2014 @ 09:00 pm ACST
Contributed by: Shane Hendrickson
Views: 1,911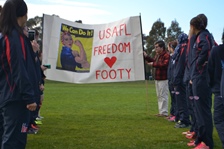 A chilly morning at Ransford Oval saw the United States Freedom redeem their loss to Canadian Northern Lights, coming out with a much stronger performance against the Canadian reserves side; the Midnight Suns.
The Freedom started the match strongly, dominating with #21 Hallie Lee winning all of the hit-outs in the centre. The Freedom capitalised on those hit-outs, going in to the first quarter break with three unreturned goals. The scoreboard read the United States leading 3.2 (20) to Canada 0.0 (0).
The second quarter was tighter, with the Americans kicking the first goal of the quarter, but the Canadians returning fire to finish the quarter with a goal apiece. The Canadians also scored a behind to win the quarter, although they still trailed at the main break 1.1 (7) to 4.2 (26).
The Americans came out firing after the half, kicking three goals to none in the third quarter and keeping the Canadians scoreless. The Freedom had eight scoring shots to none but were wasteful in front of goal. The score at the final change had the Yanks leading 7.7 (49) to 1.1 (7).
The sting had already gone from the match by the final quarter, but the Canadians put up a gallant fight. The Freedom finished off the match with two more unreturned goals and enjoyed a well-deserved victory.
#1 Alexa Blatnick and #5 Holly Teufal were on fire for Freedom, while #7 Justine Stevens and #11 Holly Carlson performed well for the Suns. Captain and bigfooty celebrity Renee Tong was also a standout, laying many tackles and bringing down girls twice her size.
Freedom 3.2 4.2 7.7 9.10 (64)
Midnight Suns 0.0 1.1 1.1 1.2 (8)
Goals
Freedom: Lindsey Kastanek 2, Cathy Hoha 2, Sara Edwards-Rohner, Julie Marks, Bretta Brower, Holly Teufal.
Midnight Suns: Alanna Fenton

Best players
USA Freedom: Edwards-Rohner, Lee, Brower, Kastanek, Teufal
Canada Midnight Suns: Stevens, Shannon, Fernandez, Tong, De Silva, Beaudin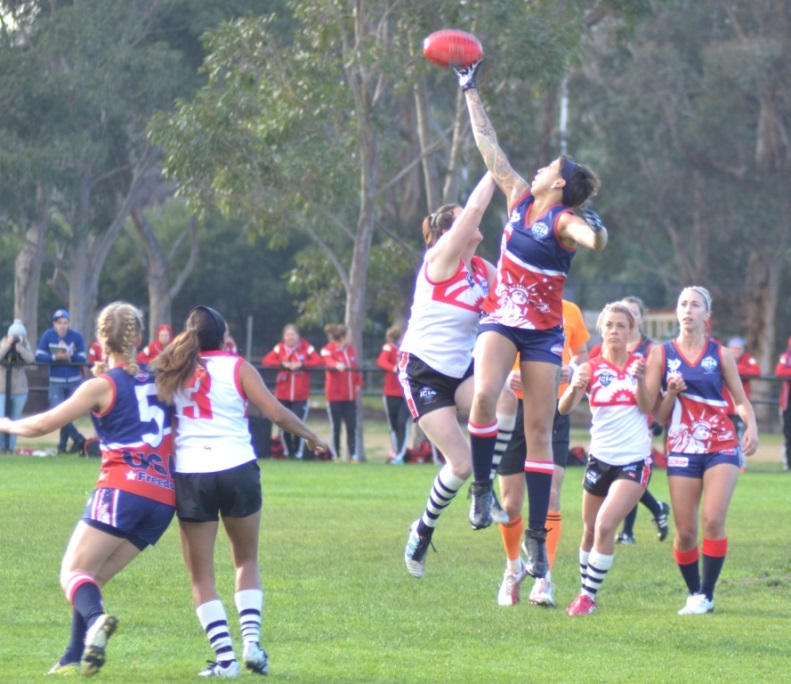 Hallie Lee was imposing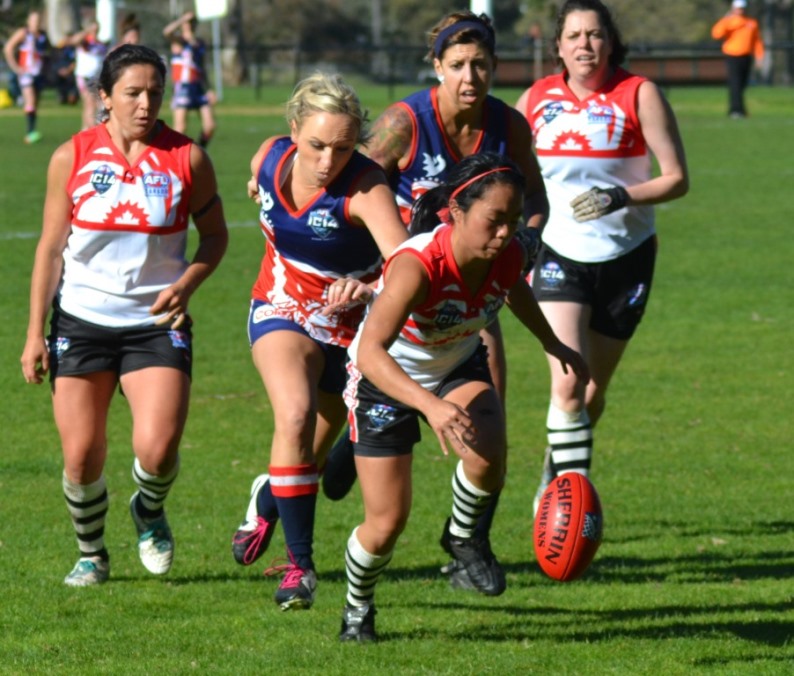 Tong tried her best