Tongan Storm too big and too strong for skilful Japan Samurai
Sunday, August 17 2014 @ 10:36 pm ACST
Contributed by: Stephen Alomes
Views: 2,025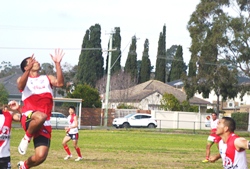 Tonga 21 10 136 d Japan 2 3 15
When two teams come out to play in red and white, it is a challenge for the umpires, At times too for the large crowd which came to Box Hill to barrack for Japan or Tonga at Elgar Park Box at Elgar Park, Box Hill before the Box Hill seniors game.
It looked like it could be close: after a Tongan goal in the first few minutes, the Japanese reply came almost immediately.
Except, despite the similar red and white guernseys, the teams were very different. While Japanese marking skills have improved, they were sometimes unable to match the biggest Tongan players in the air (even aside from some statistical oddities in the IC Record – the '170 cm' Tongan player who is said to be over 100 kgs!).
Their two different backgrounds were apparent in their football. Despite the expanding Japanese AFL and the Japanese club teams against which Box Hill North has been playing over the Oz June holiday weekend since 2003 (for the Sugadaira, then Narita, now AFL Japan Cup), the island country of over 100 million has a small, but solid, footy profile. Japanese players are mainly students, and are relatively small and light, despite the 'Gian batte', 'never give up', spirit they demonstrated in their tackling and spoiling as well as in marking contests.
The Tongans, from the Friendly Isles, with a population of around 100,000, mainly play make-up matches at home. It is a country long colonised by the rugbies, but now sending players to the American NFL and playing footy only since the early 2000s. Their marking skills were dominant, especially up forward, with four goals each to Fakatoumafi and Taufoou. However, their field kicking was variable, and they may be challenged by other run-on sides such as South Africa and New Guinea.
By quarter time the Tongan Storm had gone to an 18 point lead and by half time led 10 5 65 to Japan's 1 3 9.
While the old saying suggests that big players don't get shorter in the second half (but fast players get slower), the Japanese had more of the play in the third quarter. They then added another goal in the final term, but were outkicked and outmarked by the Storm.
Several players were outstanding in a match marred by a variable wind, particularly the Tongan Laefe and the marking, kicking and endeavour of Japan's Nakamura.
While it was a good match, played with speed and strength, other highlights happened off the field. As often at the IC, a range of supporters for both teams had a diversity of sizes, ages and styles,.
Ritual came in the form of the Tongan haka before the game and then their presentation of decorative plates to the Japanese team after the game. International footy has something special to contribute to our game.
Also off the field, as at several other matches, were AFL scouts keeping an eye out for potential players, a new development in the International Cup, at a time when AFL clubs are seeking every avenue to strengthen future teams.
Tonga 4.2 10.5 16.7 21.10 (136)
Japan 1.2
1.3 1.3 2.3 (15)
Goals
Tonga: Fakatoumafi 4, Taufoou 4, Okati 3, Loni 2, Taulani 2, Tauake, Tuaefe, Finau, Pita, Mahina, Fukofuka
Japan: Yoshida, Sasaki
Best
Tonga: Mahina, Loni, Taulani, Fukofuka, Langi, Taufoou
Japan: Namakura, Takasaki, Yoshida, Sekiguchi, Kai
Disclosure: The author played for Australia (basically, then it was the Tokyo Goannas) against Japan for a quarter in the 2001 Sugadaira Cup, before its subsequent evolution into a multi-team competition. He suffered delayed shock, an 'elephant leg' derived from a mountain tick bite, but survived to tell the tale. He is the only sensei (professor) at the University of Tokyo to represent Australia in footy in Japan – at least so far.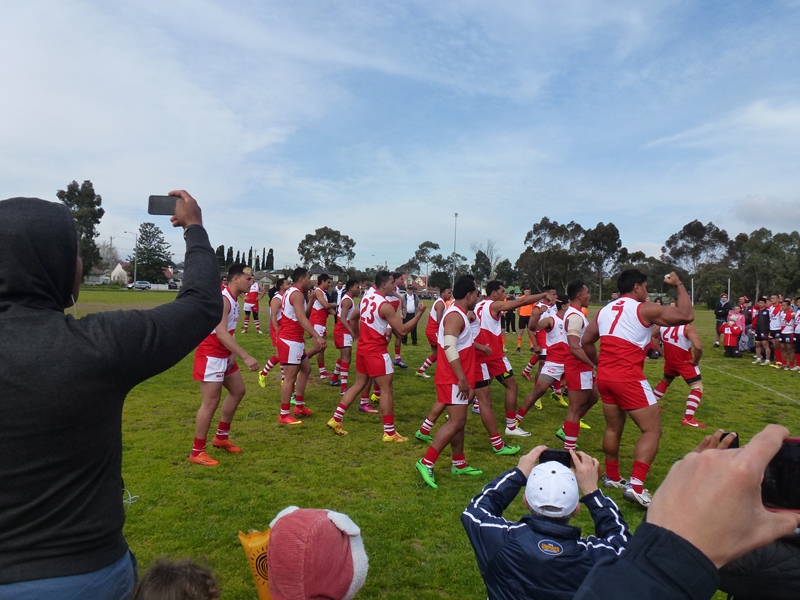 Tongan Sipi Tau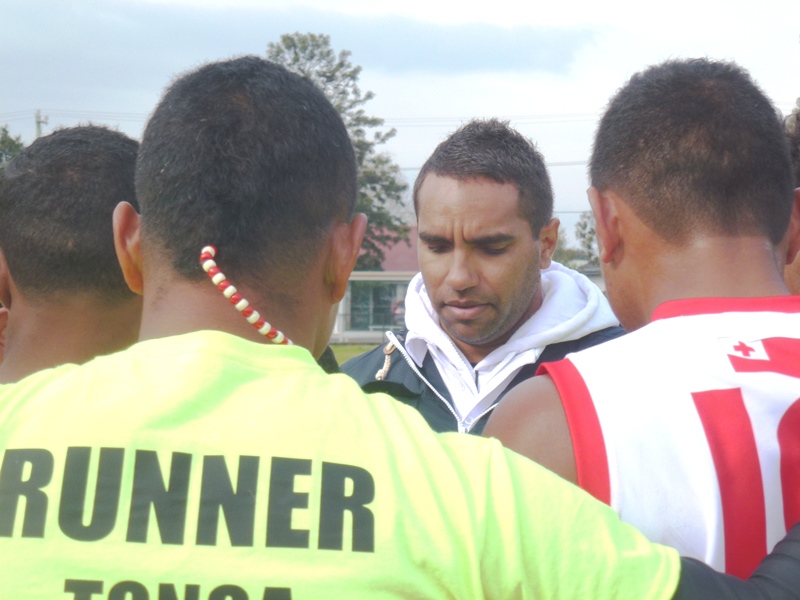 Intense Huddle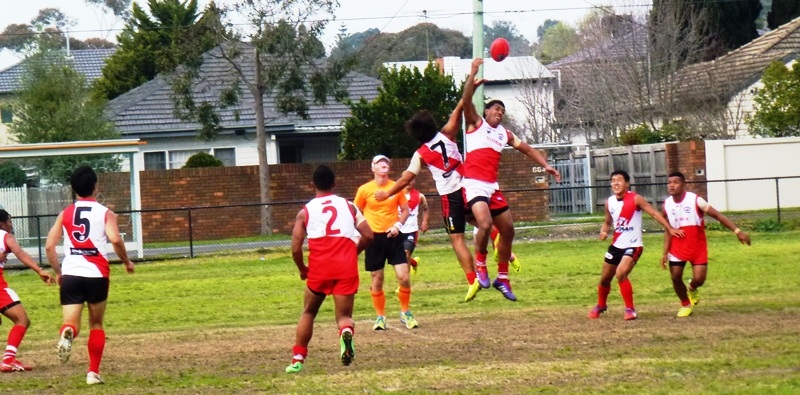 Japanese ruck presence.