Confucius says... footy is the main thing – Japan defeats China at Western Oval
Wednesday, August 20 2014 @ 08:44 am ACST
Contributed by: Stephen Alomes
Views: 1,968

China and Japan are both Confucian societies with respect for tradition, even though this fact is often deliberately forgotten by leaders with other imperatives or can't be seen for the material goods of today.
But we now have a new tradition of Australian Football. It's getting stronger, particularly in Tokyo, Osaka and Komazawa in Japan and in Guangzhou and Beijing in China. Perhaps a 21st century Confucius might declare that footy is the main thing.
The Japanese, long campaigners at the International Cup (and with their clubs regularly playing against the almost unique expatriate team, the Tokyo Goannas, an unusual phenomenon on the world footy atlas), are experienced footballers. Japan even had a stalwart barracker, Jim Morton, who has travelled from Darwin to the last five ICs and also seen the Japan team make its debut in the Arafura Games in the 1990s.
The Chinese are still relatively new kids on the block, playing at their second International Cup.
When a Chinese hooked kick over the shoulder fell just one metre short in the opening minute of the match, it was clear that China would challenge the experienced Japanese team. After several similarly unsuccessful shots, Japan goaled twice later in the first quarter, creating an important, if small, gap, with China only having one point on the board.
It was a contrast of styles. In moments, the Japanese passing and marking game looked like a practice drill, like Hawthorn at their best. However, Chinese pressure and tackling made those moments occasional only.
By half time, led by several stars, including captain-coach Jun Segikuchi (Japan had lost its Aussie coach just before the flight south after domestic demands intervened!), five time International Cup star Michito Sakaki, who had also played in the Arafura Games in Darwin in the 1990s and trained with Essendon, and the ginger-haired Masaya Nakamura, Japan had four goals on the board. This created a solid margin, with only a solitary goal for China, despite the strong defence of China's captain coach Jiaming Pi.
However, the Chinese kept coming in the second half. And not always scientifically. After some sloppy tackling in the last quarter, one player was red carded for flattening Sakaki. He was reported by an IC 2011 and 2014 experienced central umpire (one of the five American umpires here on scholarships), who later confirmed, prior to the tribunal hearing, that Sakaki had not suffered concussion.
A second goal lowered the margin to 10 points until Japan finally struck back, running out winners by 17 points.
Perhaps, in the global world of footy's International Cup, Confucius might agree that system, skill and running is still more important than pressure.
| | | | | |
| --- | --- | --- | --- | --- |
| Japan | 3.0 | 3.1 | 4.3 | 5.4 (34) |
| China | 0.1 | 1.2 | 1.4 | 2.5 (17) |
Goals
Japan: Sasaki 3, Kuno, Nakamura
China: Pi 2
Best
Japan: Sasaki, Kuno, Nakamura, Kamada, Tsuneto, Sekine
China: Z.Zhang, J.Qui, Deng, Z.Chen, M.Yang, Yu
The Toss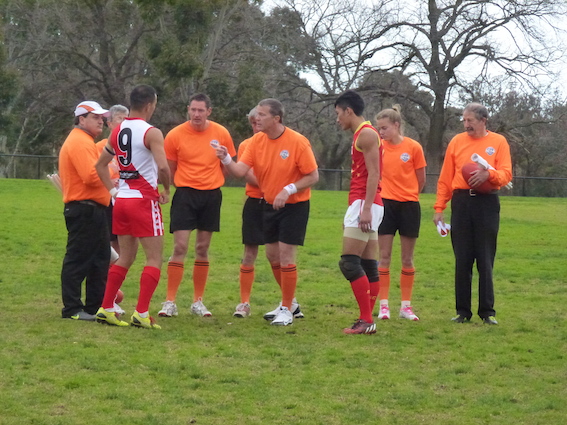 Below the knees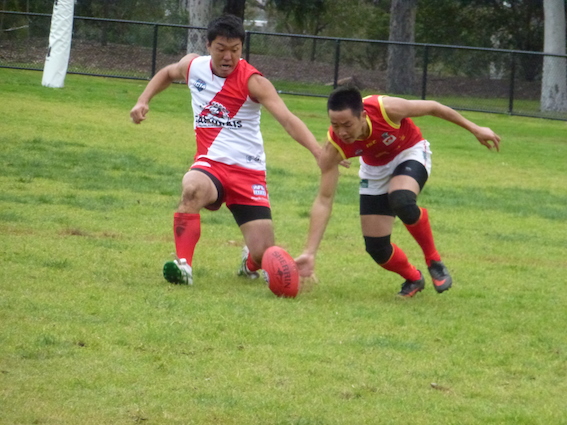 In their groups... China at quarter time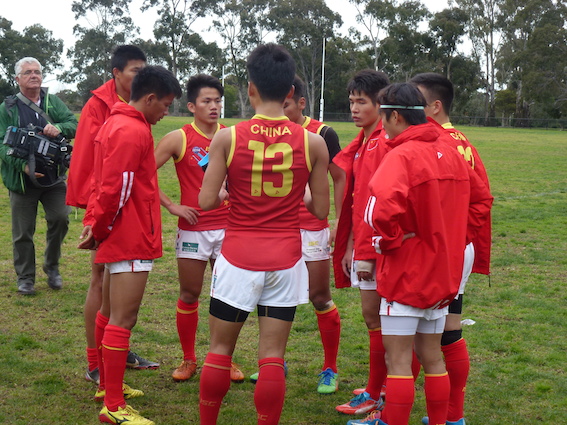 Japan captain-coach Sekiguchi addresses the team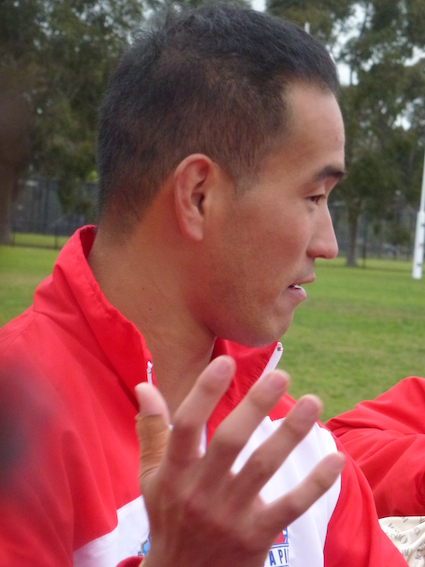 Jim Morton - Japan supporter at every IC since 2002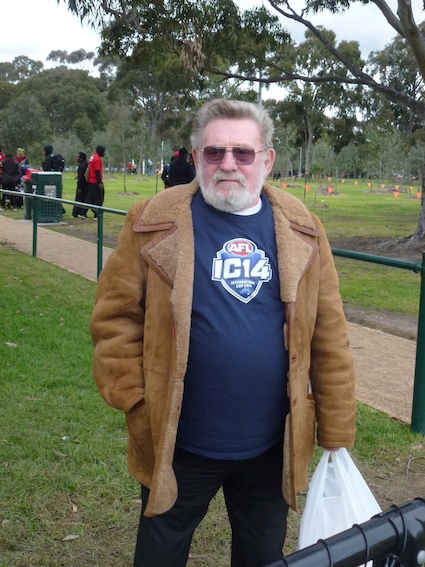 Marking Contest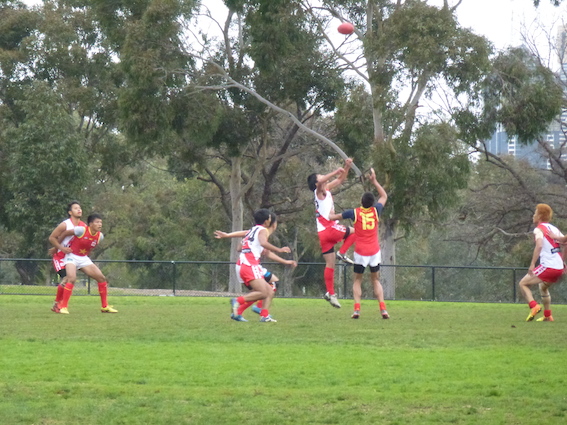 Michito Sakaki (at his 5th IC) celebrates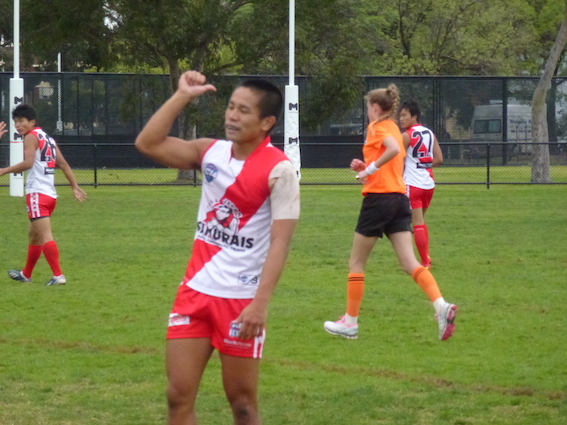 China captain-coach Pi Jiaming moving the pieces on the board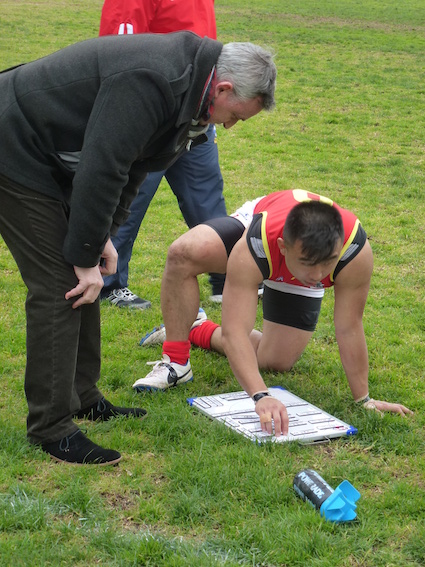 Victors' celebratory dance