Timor Leste footy may rise again – All it needs is…YOU!
Thursday, September 25 2014 @ 01:03 pm ACST
Contributed by: Wesley Hull
Views: 3,932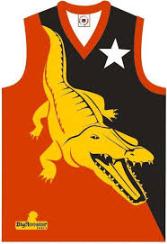 Inor da Silva just loves Australian Rules football. A member of the Timor Leste Crocs International Cup team in 2011, Inor still lives the game as much as he can.  His social media pages are littered with photos of the glory days of the Crocs playing against international teams. He is proud to fly the flag and holds the hope that one day Timor Leste footy can come back.
Inor says, "Yeah we keep training in Dili every Sunday. We have got many players at training. But we still look for support for our national team, the Crocs, but we can't find it. We hope to have good support [in the future] to get to the Asian champions tournament in the Philippines Cup. We hope we can get support soon."
Back in 2008 World Footy News wrote a story, Timor-Leste Crocs enter Asian Footy, looking at the start of the Timor Leste Crocs and the development of the game in the nation. Back then it was full steam ahead, but after their IC11 involvement the Aussie Rules footy scene has dropped away.
One particular paragraph in that story paints the picture of how the game started in Timor Leste, as well as introducing two of the key people in establishing the game, Luke Gosling and Justin Bayard.
"Australian peacekeepers and aid workers have been heavily involved in helping get the country on track, with the island located just 640 kms north-west of Darwin. Two such Australians were Luke Gosling and Justin Bayard, who started the Timor-Leste Australian Rules Football Club in 2008. As Gosling tells us, "The forerunner was the East Dili Eels, a group of blokes who would kick the footy on a Thursday afternoon. So we have 2 teams, the National team known as the Crocs, and the Eels who form for training games".
Luke Gosling is now the Labor party representative for the seat of Solomon in Darwin. He does not have a role now with the Timor Leste football scene, but still has astute observations.
"The crocs are rebuilding and it's the Timorese who are doing it.  It would make great sense for an Aussie club to adopt them.  I know the Crocs are trying to get to the Asian Championships in Philippines next month but I'm not sure how they are going with getting the sponsor dollars."
"As I said some of the Timorese are getting it going again. [People like] Inor Da Silva, a young fella doing his best. The first Bali 9's tournament he went to as a very young fella he was taking screamers over blokes twice his size."
"The main aim of us all, who started the club 6 or 7 years ago now, is that we will do what we can but most of us are now living back in Australia and are limited in what we can do. But i reckon if we can get a cracker of an article written we may be able to give the guys in Dili a bit of a boost."
And in part that is the objective of this story. The Timor Leste players are still turning up to train each week, but for what? They need to be able to play either at a local competitive level, or re-enter the international field, even on a small scale, to get momentum for the future. But to achieve this they need a benevolent helping hand. A corporate sponsor would be invaluable to their cause, but the big fish might be a wealthy (by comparison) AFL club taking them under their wing as a partner.
Inor's coaching partner is Joao Barras Dejesus. Between them they keep the existing core of players active and learning.
According to Joao, "AFL Timor Leste at this moment has 20 players. We had four teams before back to 2011 to 2012 and every team running and managed by Australian boys who worked in Timor. But after the boys had to leave Timor back to Australia the team started not going so well because of [a lack of] training, sponsors and coaches. [Back then] we also had a national team enter the IC11 in Sydney and Melbourne."
Back in April Joao started to gather interested players, all Timor Leste nationals, to commence training with a view to reorganising how the game is played there and making Australian Rules the "favourite game in Timor". This was made tougher with no Australians there to lead the way.
"We have practice every week.  I also use my four week holiday to work together with Inor and give the small group the knowledge and skills to grow the game. At this time we still focus on training and no games. We have some young players just join with us but they still do not understand much about this game. We try our best to teach them, as most of players come from soccer."
As a final word, President of AFLTL Romaldo Barreto looks at the revival this way. "We have almost 32 players from national team of Timor Crocs. We really want to again be exactly the same as [our] IC11 era, including the jumper."
"What would really help 12 months from now is to have one or two coaches from neighbourhood country like Darwin [in Australia] to at least come to Timor to assist every two or three months to oversee the progress and try to make a competition once a year between the Timor Crocs and Darwin or whatever to play in Timor Leste, or we can fly to Darwin."
"All of these are things that can help to grow the AFL Timor Leste Crocs again."
Which just leaves this invitation. If any reader knows of a business or club which may be interested in helping AFL Timor Leste resurrect their national team and aspirations, get in touch with them directly via email at - president.afltl@hotmail.com or contact us at World Footy News.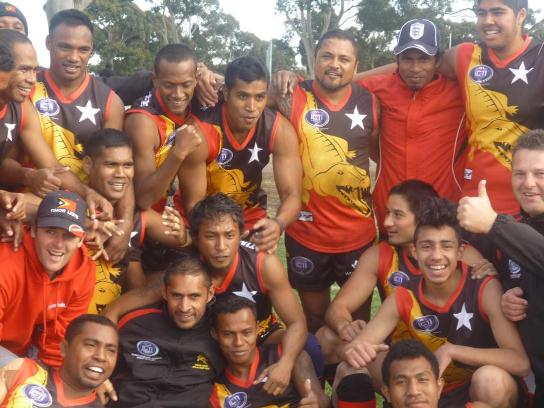 Left: Timor Leste Crocs at IC11