Port Adelaide strengthen ties in China
Wednesday, November 05 2014 @ 08:43 pm ACDT
Contributed by: Aaron Richard
Views: 2,353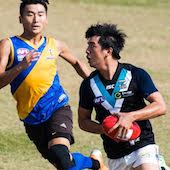 The Port Adelaide FC has connected with a new club in Guangzhou, China with the Zhujiang (Pearl River) Power running out onto the field for the first time recently.
The Zhujiang Power join four other sides in their local competition in Guangdong Province of Southern China - the Huizhou Hawks, Dongguan Giants, Guangzhou Scorpions and Guangzhou Sports University Seagulls.
Port Adelaide hosted the Chinese national side at the IC14, with the Chinese marching before the match between Port and the Sydney Swans in round 20. They have also recently formalised an official partnership with the Hong Kong Australia Business Association.
The full story from the PAFC website is reproduced below.
LEFT: A player from the Zhujiang Power keeps ahead of his Guangzhou Sports Uni opponent.
The original article is available at A New Power in Guangzhou on the PAFC website.
PORT Adelaide's impact on Team China in the 2014 AFL International Cup has started reaping dividends, with a new team adopting the club's nickname for the latest Australian Football season in Guangdong province.
The Zhujiang (or Pearl River) team - known as the Power - ran out for its first two games and prevailed by nine points over the Guangzhou Scorpions in the final game of the opening round, an impressive result after dropping the first game to the league leading Guangzhou Sports University Seagulls earlier in the day.
Other groups competing in the five-team league include the Huizhou Hawks and Dongguan Giants.
Port Adelaide was the primary sponsor for the Chinese National team in the recent IC14 competition played between national teams from around the world in Melbourne.
The team also marched in force at the Power's Round 20 game against Sydney at the Adelaide Oval.
Port Adelaide recently established a formal partnership with the Hong Kong Australia Business Association (HKABA) and recently won a special commendation at the HKABA awards night for the its contribution to arts, culture and tourism.
The club's involvement with the Chinese community stretches back a long way too, as evidenced in this picture doing the rounds on social media.