Croatia To Host 2015 Axios Euro Cup
Thursday, April 02 2015 @ 11:21 am ACDT
Contributed by: Wesley Hull
Views: 2,247

In an announcement from AFL Europe, the Croatian city of Umag will host the 2015 Axios Euro Cup in an enormous coup for the rapidly growing Australian Rules football nation.
According to the AFL Europe website, "It's with great enthusiasm that AFL Europe, with the help of the Croatian Australian Football League (SANH), is thrilled to announce the location for 2015 Axios Euro Cup is the beautiful town of Umag."
"The Axios Euro Cup is being held on the 10th October 2015 in Umag, which is located in Istra, the coastal region of Croatia. Taking place in the resort that also plays host to the annual ATP Croatia Tournament, the Cup promises a well organised, cheap and warm weekend. With special Euro Cup accommodation and being accessible from three airports under an hour and a half drive and the alternate option of hiring a car and driving from Italy or Slovenia, the 2015 Axios Euro Cup will be affordable for all."
The small city of Umag is located on the shores of the Adriatic Sea, some 250 kilometres to the west of Croatia's capital, Zagreb. Whilst having a population of around 10,000 people, Umag also beats a healthy tourism industry. The APT Croatian Open tennis tournament is held in the city each year, bringing many visitors along with the coastal scenery. It would be hoped that the Axios Euro Cup will become another drawcard which may also lead to further development of Australian Rules football in the area.
Croatian footy has grown in leaps and bounds in recent years. The national team, the Croatian Knights, has long been very competitive at the Euro Cup level in a range of tournaments with the Knights being runner-up to the all-conquering team from Denmark at the 2014 Euro Cup in London.
Recent developments in the nations national league has seen the addition of the Slavonski Brod Tigers, further strengthening the competition as they seek to develop a full sized playing field in Croatia.
Further details will be released as they come to hand. Anyone requiring additional information should go to the AFL Europe website at:
http://www.afleurope.org/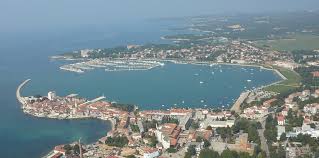 Umag on the Adriatic Coast - Home to the 2015 Axios Euro Cup