Port Adelaide to celebrate Chinese culture in Multicultural Round
Monday, August 03 2015 @ 11:15 am ACST
Contributed by: Troy Thompson
Views: 1,300


To celebrate this weekend's upcoming Multicultural Round Port Adelaide will wear a Chinese-inspired guernsey against the Western Bulldogs on Saturday at Etihad Stadium.
The Power will wear a variation of its V-lined black guernsey. The guernsey will feature both the Chinese and Australian national flags on the front underneath the AFL logo and the respective player's name in Chinese characters on the back above the number.
Port Adelaide chief executive Keith Thomas said the Multicultural Round guernsey was another sign of the club's commitment to China.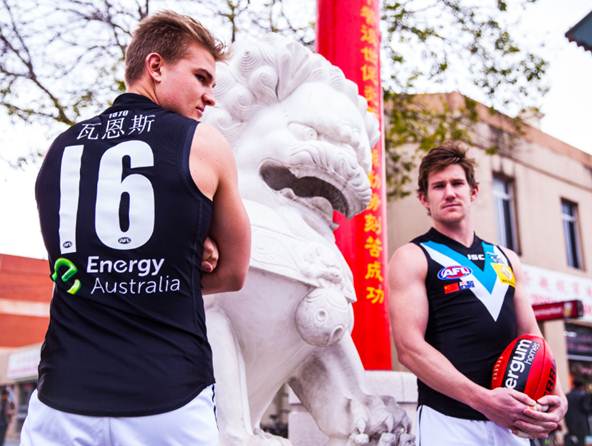 "Over the past couple of years Port Adelaide has made a conscious effort to promote both the club and the AFL competition through Southern China," Mr Thomas said.
"We proudly sponsor both the Chinese national AFL side Team China and the Southern China AFL competition.
"Since 2013 we have regularly held business luncheons at the Hong Kong Football Club, where we have established great relationships and a reciprocal membership arrangement.
"This year we have been distributing highlights of our home games with Mandarin commentary and sending these out through key social media platforms both here in Australia and into China.
"And within the next two to three years we'd ideally love to play a game in China either as a pre-season fixture or as a game for premiership points."
Mr Thomas said the game of AFL is still very foreign in China so there is a need to be consistently visible in their region and continue to engage their community.
"Back here in South Australia we have thousands of Chinese international students and we would love to help them assimilate more easily into our culture here in Australia," Mr Thomas said.
"We feel a good way of doing this is to make them feel part of the Port Adelaide family and our indigenous Australian game.
"This Multicultural Round guernsey is just another way of showing Port Adelaide's commitment to China and promoting the inclusive nature of our game."