Port Adelaide Helping Get China Reds to Asian Champs
Friday, October 16 2015 @ 06:42 pm ACDT
Contributed by: Wesley Hull
Views: 1,392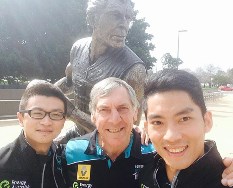 The Hong Kong Dragons have won the Asian Champs tournament in Bangkok, Thailand. Final scores: HK Dragons 4 11 35 d Malaysian Warriors 2 3 15. Congratulastions to the Dragons. More details to follow.
The Port Adelaide website has released a story outlining the role the club has had in the development of the game in Asia, particularly with the China Reds team. The article below showcases their involvement ahead of the Asian Championships which begin tomorrow in Bangkok, Thailand.
(Picture: Zhang Hao, Russell Ebert, Chen Shao Ling – Port Adelaide FC)
THE China Reds will take part in the AFL Asian Championships in Bangkok this weekend with the help of Port Adelaide as part of the club's push into Asia.
With money raised from the 2014 Port Adelaide ANZAC Day fundraising auction, 11 local Chinese players have been given the opportunity to make the trip to Thailand.
This comprises the largest contingent of local players to ever represent a country in the championship, which is normally dominated by expatriate Australians.
According to AFL Asia President Darren Whitfield, Port Adelaide has played an integral part in this result.
"Port Adelaide is pioneering a way for local footballers to get involved, and their fundraising efforts are the reason that Team China are able to send 11 indigenous players" he said.
In recognition of the club's sponsorship of the South China AFL (SCAFL) and Team China, the players will be sporting Port Adelaide logos on their guernseys.
The China Reds are comprised of combined representatives from the Beijing Bombers, the Shanghai Tigers and the Guangzhou Scorpions.
Their trip is being managed by Zhang Hao and captained by Chen Shao Ling as they compete for the division two trophy.
A total of 13 teams will take part in the competition this weekend, as the Singapore Wombats look to defend their 2014 'Asian Champs' title.
According to Whitfield the competition is an important part of the AFL's push into China.
"This competition is the ultimate display of footy in Asia and it plays a key role in its expansion in the region," Darren said.
He also made it clear Port Adelaide is one of the leading lights to nurture the development of the game there.
"Port Adelaide's involvement in China has been very important, and the players love the recognition that they get," he continued.
"It lets them know that this game is more than just what goes on in their local region." He said.
For more information about the competition and results, go to the AFL Asia website at: http://www.afl-asia.com/
Exclusive to  www.portadelaidefc.com.au