A Pilgrimage From Zagreb To Adelaide
Friday, December 18 2015 @ 11:09 pm ACDT
Contributed by: Wesley Hull
Views: 5,360

As is increasingly the way, talented young footballers from all over the world are being increasingly more often lured to Australia to try their hand at Australian Rules football. Those not able to attend various combines to get on the AFL's radar are risking much to leave their home lives behind and journey to Australia to try their hand. Some documented examples have been players from the United States making it to the VFL. Others have come from Canada to play on the Gold Coast or country Victoria.
Josip Habljak has been one of the mainstays of Croatian footy in recent years. His interest in the game turned in to a love affair of sorts and his talents grew exponentially. Like others before him, the lure of coming to Australia has seen him make that life change and see how far he can go with his adopted game.
The following interview with Josip is unique in that it gives a very clear insight into the background of a player not brought up with the game and how, by degrees, he developed his own game and explored options to go further. Now with Sturt Football Club in the SANFL, Josip opens up about his footy journey.
Thanks for your time, Josip. To kick off, how did you first find Aussie Rules footy?
"To be honest it happened by a chance. A chain of events led me away from playing basketball which I've played since I was ten, and when you're in a sport for so long it's really hard to just stop doing any sports. Suddenly you find yourself "not belonging" to any sports team and I kind of felt I wasn't using my body as much as I could have."
"So at the time I was just hitting a gym and doing my university stuff that had do be done (Faculty of Kinesiology in Zagreb) and one day I saw a poster at my university saying "Do you want to play against Oxford University ? Try Australian Rules Football !". Of course, since being a Croatian usually includes having no idea what Aussie Rules is I immediately thought it was some kind of a rugby since there were Rugby League, Rugby Union and HEY!, I just found about another form of Rugby - Australian Rules Football!"
"It seemed interesting but I didn't have too much will to try it out since I thought I'd be the only new guy that would actually show up so I didn't even give too much thought about trying it out. Well, lucky for me, few days later while I was sitting in front of an auditorium waiting for a class to begin, a friend (former rugby player) came up to me and asked me, "Hey, Habljak, you wanna try this Aussie rules stuff ?" I was really thrilled to find out there is somebody besides me who wants to try it out and next thing you know, as soon as I said "Yeah, I wanna try it out but I thought I was alone." A few guys sitting next to me said the exact same thing. That's how I started training for Aussie rules and how I fell in love with the sport."
Since starting your journey, which clubs did you play for?
"The first team I played for was University of Zagreb against University of Oxford after only about a month of training. We formed a team of new guys, all of them students at University of Zagreb , and we gave it a go. We lost our first game ever by 30 points but considering all of us were new to the sport and we played against guys who were a lot longer in it and lot of them even being Australians we didn't do so bad."
"Afterwards we had a draft were I was drafted for my first and only Croatian club I have played for, Zagreb Hawks, and I had three unforgettable and prosperous seasons with them in Croatia before eventually moving to Australia to train with, and hopefully play for Sturt."
"Another team I also played for was the European Legion, a team of the best European guys younger than 23 that played against the AIS (Australian Institute of Sport) Academy boys in an event called the "Easter Series" that took place in London. And of course, I can't even explain the thrill of playing for our national team, the Croatian Knights" at the European Cups and European Championship."
What attracted you to the game?
"First of all, when I started playing footy it immediately felt like this sport is something different and it really showed up to be more than just a sport: it's a community, sort of a family for all of us playing. Everybody supporting each other regardless of playing level and experience is something I've seen only in footy, it really doesn't matter if you're the best player on the team or you just started out and still can't figure out the shape of this red UFO that has a tendency to bounce everywhere except towards you. You'll get the same praise and a clap for each good mark, kick, pass, even just for a good effort."
"Secondly, the sport itself is really rewarding for effort itself, even if you have a bad day and nothing goes your way and "The Sherrin" (brand of that red UFO) just decided not to obey anymore you can still contribute to your team by putting an extra effort in other areas of the game like tackling someone, spoiling some marks, doing blocks for your teammate. I think those two things are something that really made me fell in love for the game."
Josip, what triggered your decision to travel to Australia to play?
"Ever since I was a kid I had a desire to visit Australia. I can still remember one of my first links to Australia was a shirt my parents used to wear a long time ago, it had a Koala with a beer mug saying: "I'm only here for the beer". As I started playing footy, going to Australia to play it over there was not even in my wildest dreams but after I'd played for my national team I caught myself daydreaming about how it would be to train and play footy in its homeland."
"Playing for European Legion against the AIS Academy team gave me a real sense and a feeling of how it is to play Aussie rules against and with someone who grew up with it and since I fared well with and against them, being chosen amongst best on ground on two matches we played I really started hoping and praying that maybe someday there could exist the slightest chance for me to get to Australia via footy to just be able to learn it and play at its highest level."
"To my enormous surprise, after two years of successful appearances for my national team and the European Legion appearance, I was presented with a few possibilities from AFL Europe and its former CEO, Mr Ben MacCormack, to go and play footy in Australia. The thrill I've then felt is something I can't really explain and it really was something special. I don't even have to tell you that I didn't have to think twice about it and the dream of going to Australia little by little started becoming true."
"Despite already having a possibility to go, a friend of mine, our national team coach, Ante Loncar, told me to wait just a little bit, because he could possibly have something else for me. He got in touch with Sturt's president Jason Kilic, since two of them were good friends, and sent him some videos of my games and Sturt gave a green light for me to come and try out with them. A big desire and an opportunity of a life time to improve my footy game by learning it from the best really gave me no other option than moving to Australia to chase my dreams."
Since having arrived in Australia, and specifically Adelaide, how have you settled into your new club?
"I really love it here. The conditions at the club are exceptional and everybody at the club, players and staff, have been really supportive and made me feel very well accepted amongst them. The passion I see here from everybody involved in the club is really something to be admired and I personally enjoy every moment of my time here. Also, our head coach for this season, Martin Mattner, a former AFL player with a premiership title behind him at the Sydney Swans, also works with everybody willing in one on one sessions, so I really have a chance to learn from the best."
Do you think your journey might inspire others to try their luck?
"Hopefully it will show people that Australia isn't something unachievable, but I also hope that my story will inspire people to try whatever they dream of. I now firmly believe that you can achieve anything you want if you really put your mind to it and of course, put in a lot of hard work. In my case I believe it was with God's help I got here, but however you want to call it - God, Universe, Karma or something else - be sure that if you put hard work into focusing on your goal, you'll get it's help along the way."
Josip, you have left Croatia to chase a dream, but what is the state of the game back in Croatia?
"We've only got footy in Croatia for ten years but it's developing quite well thanks to everybody doing hard work in ensuring so. When I started we had a little "baby boom" because they managed to gather a lot of new players from University of Zagreb and since then it has been developing steadily with two new clubs opening in last two years and we even started a women's footy club back in my home town, Velika Gorica, that also appeared as a women's national team at the European Cup which was held in Umag this year."
"Today we've got five men's clubs and one women's club and a quite respected national team that was good from the day they started playing it ten years ago. In that time it [the national team] managed to become the most successful national team in Europe with 7 medals from 8 competitions. Unfortunately we don't have any conditions for training. We don't even have a playing field. We are basically using a meadow that's more like a wasteland for our trainings and games. Locker rooms, club rooms and showers are still sci-fi for us and the only thing we've got are jumpers from our sister clubs in Australia, a couple of Sherrins and big, big hearts."
Thank you so much, Josip. Was there anything else you wanted to add?
"I miss Ljubac (it's not a dog) and that's all folks!"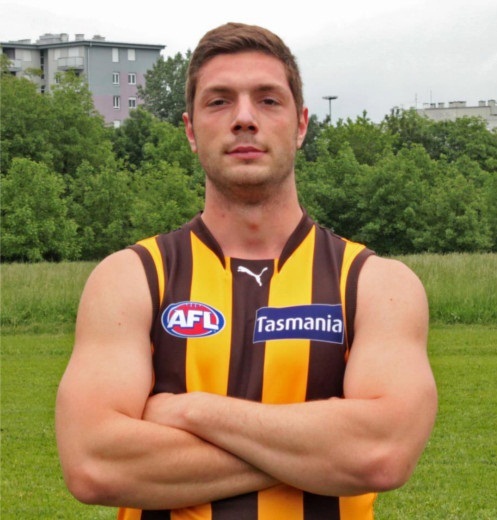 Left: Josip playing for his beloved Zagreb Hawks (Picture: Sports News - Croatia)
Top: Josip playing for the Croatian Knights (Photo:
http://www.scena.hr
- AFL Europe)