German Footy Gathers Steam in 2016
Tuesday, May 31 2016 @ 09:38 pm ACST
Contributed by: Wesley Hull
Views: 1,885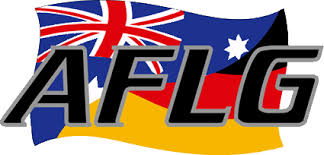 The AFLG's initial tournament of the 2016 season, the 9's format, is two thirds complete with the Round 6 matches played last week in Dresden. The format, introduced last season, sees two Hamburg teams (Swans and Pirates) as well as the Frankfurt Redbacks, Munich Kangaroos, Berlin Crocs, Rheinland Lions, Freiberg Taipans, Stuttgart Emus and Dresden Wolves battle out the honours over 10 rounds of 9's format, with a Grand Final on September 10th.
The 9's home and away format finishes with Round 7 and Round 8 played concurrently in both Munich for southern German teams and in Hamburg for northern teams. After that the 16's competition will commence with a four team competition over four rounds between July and September featuring the Munich Kangaroos, Hamburg Dockers, Berlin Crocs and Rheinland Lions.
The Munich Kangaroos lead the field in the 9's competition, undefeated with nine wins. It could be a battle royale for the second Grand Final berth with the Lions, Crocs and Redbacks all capable of grabbing the spot. Interestingly, the Dresden Wolves continue their rapid development and hold fifth place.
Following are the results of all rounds to date, taken from the AFLG website, as well as remaining games.
AFLG 9s:
Turnier I (in Köln, Sportanlage Bocklemünd), 9. April 2016:
1. Rheinland Lions 3.2 (20) – Munich Kangaroos 9.5 (59)
2. Hamburg Pirates 0.0 (40) – Stuttgart Emus 0.0 (0) nicht angetreten
3. Rheinland Lions 2.7 (19) – Hamburg Pirates 3.6 (24)
4. Munich Kangaroos 0.0 (40) – Stuttgart Emus 0.0 (0) nicht angetreten
5. Rheinland Lions 0.0 (40) – Stuttgart Emus 0.0 (0) nicht angetreten
6. Munich Kangaroos 12.4 (76) – Hamburg Pirates 2.1 (13)
Turnier II (in Freiberg, Sportzentrum Wasen), 16. April 2016:
1. Freiberg Taipans 4.5 (29) – Stuttgart Emus 4.7 (31)
2. Rheinland Lions 5.10 (40) – Dresden Wolves 1.4 (10)
3. Freiberg Taipans 3.7 (25) – Rheinland Lions 2.9 (21)
4. Stuttgart Emus 2.6 (18) – Dresden Wolves 3.8 (26)
5. Freiberg Taipans 7.1 (43) – Dresden Wolves 3.3 (21)
6. Stuttgart Emus 1.0 (6) – Rheinland Lions 9.9 (63)
Turnier III (in Frankfurt, Ostpark), 23. April 2016:
1. Frankfurt Redbacks 4.13 (37) – Hamburg Swans 0.1 (1)
2. Munich Kangaroos 12.11 (83) – Freiberg Taipans 0.2 (2)
3. Frankfurt Redbacks 2.6 (18) – Munich Kangaroos 11.6 (72)
4. Hamburg Swans 2.3 (15) – Freiberg Taipans 6.7 (43)
5. Frankfurt Redbacks 9.6 (60) – Freiberg Taipans 1.2 (8)
6. Hamburg Swans 0.0 (0) nicht angetreten – Munich Kangaroos 0.0 (40)
Turnier IV (in Esslingen, Eberhard-Bauer-Stadion), 7. Mai 2016:
1. Stuttgart Emus 9.4 (58) – Freiberg Taipans 4.5 (29)
2. Berlin Crocodiles 5.8 (38) – Munich Kangaroos 6.6 (42)
3. Stuttgart Emus 3.2 (20) – Berlin Crocodiles 14.7 (91)
4. Freiberg Taipans 0.0 (0) nicht angetreten – Munich Kangaroos 0.0 (40)
5. Stuttgart Emus 2.3 (15) – Munich Kangaroos 12.5 (77)
6. Freiberg Taipans 2.0 (12) – Berlin Crocodiles 12.11 (83)
Turnier V (in Hamburg, Stadtpark), 7. Mai 2016:
1. Hamburg Pirates 4.4 (28) – Frankfurt Redbacks 9.7 (61)
2. Hamburg Swans 1.5 (11) – Rheinland Lions 6.11 (47)
3. Hamburg Pirates 10.5 (65) – Hamburg Swans 5.6 (36)
4. Frankfurt Redbacks 5.5 (35) – Rheinland Lions 5.5 (35)
5. Hamburg Pirates 2.4 (16) – Rheinland Lions 4.5 (29)
6. Frankfurt Redbacks 7.10 (52) – Hamburg Swans 7.4 (46)
Turnier VI (in Dresden, Ostragehege), 21. Mai 2016:
1. Dresden Wolves 4.6 (30) – Berlin Crocodiles 11.3 (69)
2. Hamburg Swans 0.0 (40) – Stuttgart Emus 0.0 (0) nicht angetreten
3. Dresden Wolves 5.5 (35) – Hamburg Swans 2.1 (13)
4. Berlin Crocodiles 0.0 (40) – Stuttgart Emus 0.0 (0) nicht angetreten
5. Dresden Wolves 0.0 (40) – Stuttgart Emus 0.0 (0) nicht angetreten
6. Hamburg Swans 1.3 (9) – Berlin Crocodiles 14.9 (93)
Turnier VII (in Hamburg, Stadtpark), 4. Juni 2016:
1. Hamburg Swans – Hamburg Pirates
2. Berlin Crocodiles – Dresden Wolves
3. Hamburg Swans – Berlin Crocodiles
4. Hamburg Pirates – Dresden Wolves
5. Hamburg Swans – Dresden Wolves
6. Hamburg Pirates – Berlin Crocodiles
Turnier VIII (in München, Hirschgarten), 4. Juni 2016:
1. Munich Kangaroos – Frankfurt Redbacks
2. Freiberg Taipans – Rheinland Lions
3. Munich Kangaroos – Freiberg Taipans
4. Frankfurt Redbacks – Rheinland Lions
5. Munich Kangaroos – Rheinland Lions
6. Frankfurt Redbacks – Freiberg Taipans
Turnier IX (in Berlin, Maifeld), 11. Juni 2016:
1. Berlin Crocodiles – Dresden Wolves
2. Hamburg Pirates – Frankfurt Redbacks
3. Berlin Crocodiles – Hamburg Pirates
4. Dresden Wolves – Frankfurt Redbacks
5. Berlin Crocodiles – Frankfurt Redbacks
6. Dresden Wolves – Hamburg Pirates
Grand Final, 10. September 2016:
AFLG 16s:
1. Spieltag, 2. Juli 2016:
2. Spieltag, 9. Juli 2016:
3. Spieltag, 27. August 2016:
4. Spieltag, 3. September 2016:
Grand Final, 10. September 2016: