Port Adelaide Eyes China Stadium With Potential
Thursday, June 23 2016 @ 09:05 pm ACST
Contributed by: Wesley Hull
Views: 1,680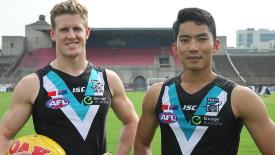 The following article by Michelangelo Rucci in the Adelaide Advertiser looks at the continuing search for an AFL home for Port Adelaide in shanghai, China. The original story can be found at:  http://www.adelaidenow.com.au/sport/afl/teams/port-adelaide/port-adelaide-eyes-china-stadium-with-potential/news-  
PORT Adelaide's home in China is now down to two prospective venues in Shanghai — either a 1930s open "colosseum" or a modern 15,000-seat concrete bowl.
And Power president David Koch is now preferring the 1935 Jiangwan Stadium that hosted the 2010 AFL exhibition match between Melbourne and Brisbane.
"I would not have said that when I first entered this stadium but I can now see this place has a lot of potential — it allows us to grow if are to be here in China for at least the next 10 years, as we are planning to be," Koch told The Advertiser today when the Power board arrived in Shanghai for its "China Strategy" sessions.
The 40,000-seat Shanghai Stadium promoted by the Power during its China tour in April is now off the agenda.
"Too big, too expensive (to cover the athletics track with grass)," Port Adelaide chief executive Keith Thomas said.
The 15,000-seat Yuanshen Stadium — that also has an athletics track around its soccer pitch — was expected to be Port Adelaide's nomination to the AFL Commission as the venue for the first AFL premiership game played in the northern hemisphere, next season.
But today's tour has put Jiangwan Stadium — the original Shanghai Stadium built in the 1930s — on the Power's preferred list. The vast field — 330 metres by 175 — was opened in 1935 as the largest stadium in east Asia. It is now used as a golf driving range and by amateur soccer teams.
"None of the venues we have seen is perfect, as you'd expect when AFL is not played here," Koch said. "But this one (Jiangwan Stadium) has a lot of potential.
 "We can put corporate boxes at each end, behind each goal. The stadium is close to public transport and the hub of Shanghai city.
"The money we spend here would be a long-term investment. We would get far better value for every dollar we put into improving this ground. We would give China a home for Australian football — for Auskick events to a national tournament between south and north China teams. This ground has far more potential — and I would not have said that half-an-hour ago."
The AFL Commission next month will rule on venue, timing and teams for the historic match in China. "And the commission is extremely excited about this game," Koch said.
Port Adelaide defender Tom Jonas had the same view after a kick-and-catch session with the Power's Chinese recruit Chen Shaoliang who also toured the venue today.
"It would be super-exciting to play here in the first AFL game for premiership points," Jonas said.