Will Thiego go?
Sunday, July 17 2016 @ 10:50 pm ACST
Contributed by: Brett Northey
Views: 2,036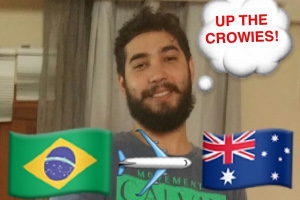 We're all familiar with players trying to raise money to head Down Under for the International Cup so this one is a little different.
Porto Alegro's Thiago Vacile has quickly become a keen Adelaide Crows supporter and posted about his passion for the team Adelaide fan Facebook page Adelaide Crows Pride. Suddenly there was a groundswell of support to try to raise funds to send him from Brazil to Australia to see a Crows game at Adelaide Oval. With the Pride of South Australia climbing to 2nd on the AFL ladder this weekend it seems a good time for Thiago to make the trip.
You can read more about the push on the Footy Almanac here or chip in a few dollars here.