Kiwi is here - Kurt finally debuts for Hawthorn
Tuesday, August 09 2016 @ 10:20 am ACST
Contributed by: Troy Thompson
Views: 2,514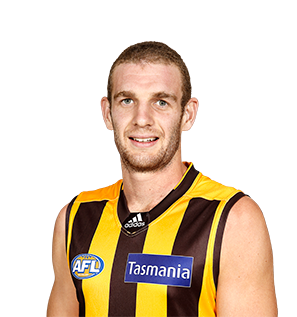 This is a story of commitment fulfilled by a number of parties. The most obvious one is Kurt Heatherley. 
Way back in 2009 we first reported the Kurt had signed with Hawthorn
after being a recent convert to the Aussie game. This is significant. He learned the game in NZ. Outside Australia.
AFLNZ also made a commitment and that was to grow the game on their own soil. No longer would it be a place for expats and few locals playing the Australian game. They had actively committed to growing and promoting the game locally. 
They had gone hard into schools in NZ creating not just the opportunity for kids to learn the skills of the game but to play it in competition. They made sure they had quality elite programs for the best of the young talent to represent their provinces and their country. 
And Hawthorn committed. They provided resources to the NZ programs, put their own "Hawks" stamp on the NZ national team (previously the Falcons) and followed through to scholarship list a stream of Kiwi kids that showed talent at Aussie rules.
Heatherley continued to develop representing NZ and the South Pacific in footy. All the while building his Aussie rules skills. Hawthorn continued to work with him and Kurt relocated with his family to Australia where his footy education would continue for two years in school footy in Melbourne at Caulfield Grammar. 
He played with Sandringham in the TAC Cup. All the while spending time at Hawthorn learning and developing his game. 
In 2014 Heatherley was upgraded to International Rookie and now just one step away from the AFL. And at the end of 2015 Heatherley was officially upgraded to the senior list. But as close as he may have been it would be almost three full seasons in the VFL before his chance came on Saturday.
So on Saturday the 6th of August 2016 Kurt Heatherley made history. The first born and bred player from NZ to debut in the AFL. 
The first time a player from outside Australia has learnt the game domestically, progressed through the local development pathway and go on to play in the AFL. A trailblazer for all those players not just in NZ but all around the world with their own dreams of doing the same. It can be done, it has been done.
Heatherley has been named as emergency the last couple of weeks. He was named emergency again this week. But on Saturday the Hawks announced he would be the late replacement for James Frawley.
His selection comes after a relatively long apprenticeship in the VFL. He has played in two losing VFL Grand Finals and notched up a total of 48 VFL senior matches for Box Hill (and 3 games in the Development League). In both 2014 and 2015 he looked a chance to debut for Hawthorn but the opportunity did not come. 
His form may have seemed a little down early in the year but has been very consistent in the past couple of months arguably being the most consistent player week in week out for Box Hill.  In defence his ability to read the play and go on a run off half back has been impressive and he rarely gets out bodied unless he is giving away significant height and weight.
All this preparation served him well in his debut match. He started well with some early spoils and a mark.  Fellow debutant Sam Weideman initially troubled him (and there was a poor attempt to spoil Weideman's mark that led to his first goal) and so too did Jack Watts as he was caught out of position a couple of times, but Heatherley looked at home and he flew for his marks and held them without fumbling. He seemed to have no problem linking up with the other Hawthorn backs and his disposal looked good. He was even directing traffic in the backline at various stages.
Cyril Rioli's mark in the second quarter (which will be a mark of the round contender) was taken over the pack after Heatherley hooked the ball from the forward flank to the hot spot. The spectacular mark will no doubt be a life-long memory from his debut for Heatherley.
[youtube:PyamNgo9Zfwωt=3m41s]
Heatherley, the Kiwi kid from Tauranga, NZ finished the day with 6 kicks, 5 handballs, 6 marks and two tackles. The commitment has paid off. Kurt has made it, AFLNZ and Hawthorn have made him an AFL player. 
There was no Gatorade shower for Heatherley come the post-match though as Hawthorn's 9 game winning streak came to an end with Melbourne defeating Hawthorn by 29 points.
Below is Heatherley after his debut in a pre-season match.
[youtube:pONX2U3_nJ0]
So will Kurt be a one game wonder? 
Addressing Heatherley at his jumper presentation on Friday
Hawthorn coach Alastair Clarkson said "It's not about playing just one game mate, plenty have played one game. We're looking for blokes that can play in premiership sides" We hope he is right. We hope the commitment continues to pay dividends for all parties.