Bogotá Bulldogs Set Off
Wednesday, August 24 2016 @ 10:39 am ACST
Contributed by: Wesley Hull
Views: 2,763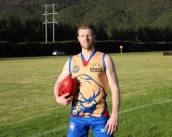 The following story comes from The Bogotá Post newspaper in Colombia, South America. For years the Santiago Saints have waited for an opportunity to play against other clubs, especially since the falling away of the teams in Argentina. The article, written by Kieran Duffy (and photos by Travis Crockett) gives details to date of the upcoming event.
The Bogotá Bulldogs, the capital's first Australian Football club, are due to play their first ever competitive game. On September 3 they will face a team from Santiago de Chile which will come to Bogotá for the Bulldogs' debut. 
Having only begun practising in November 2015, the Bogotá Bulldogs have already attracted a large panel of players who will be keen to represent Colombia in the first Australian Rules football (also called AFL or 'Aussie Rules') game to be played in the country. While many are Australians, the panel also includes a large number of Colombians as well as Britons, Spaniards, Dutch and Irish, all new to the sport.
A fast-paced, full contact sport, Aussie Rules revolves around kicking and catching an oval ball. Goals are scored by kicking the ball between tall posts at the end of the field. While it has many unique features, it also has some traits in common with other sports. Association football players are familiar with kicking, basketball players with high catching and rugby players to the shape of the ball. Historically unknown in Colombia, it has recently found a new audience on Claro Sports.
The club's rapid growth has been helped through support from the Australia-Colombia Chamber of Commerce, Universidad de Rosario and main sponsors La Villa. The Bulldogs hope to eventually form a Colombian national team which will compete in the world championships in Australia but focus is now on their international debut against the Chilean side.
Training normally takes place at 3pm on Saturdays in Universidad del Rosario's Calle 200 campus. The game against Chile will take place on Saturday, September 3rd at Calle 165 #7-42, starting at 1 pm.
Original story at: http://thebogotapost.com/2016/08/22/bogota-bulldogs-set-off/