AFL Canada announce Northwind Squad
Wednesday, September 07 2016 @ 02:16 pm ACST
Contributed by: Troy Thompson
Views: 2,961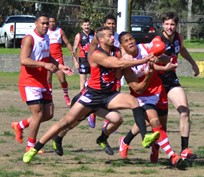 AFL Canada today announced their 30 man squad that will represent their nation at the 2017 AFL International Cup in Melbourne, Australia.
The team staff will be again be led by Head Coach Cody Royle who was at the helm for the 2015 Parallel Cup and assistant coach for the Northwind at IC14.
| Staff | Club |
| --- | --- |
| Head Coach - Cody Royle | Broadview Hawks |
| Asst Coach - Adam Kelly | Burnaby Eagles |
| Asst Coach - Dane Rolfe | Calgary Kangaroos |
| Team Manager - Brad Heidebrecht | Edmonton AFC |
| Runner - Philippe Jacques Zaor | Ottawa Swans |
The 30 man squad has many familiar names from past Northwind teams including Nathan Strom who was selected in the World Team at IC14. Three players named are at clubs in Australia being Adam Nash at the Epping Blues, Jaden Rubenstein Old Geelong and Alex Maloney at the Wallan Magpies.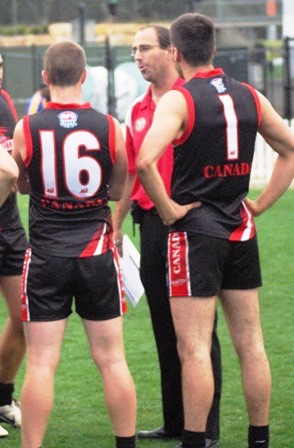 | Player | Club |
| --- | --- |
| Connor Adair | Burnaby Eagles |
| Michael Aspell | Etobicoke Kangaroos |
| Michael Berk | Edmonton Wombats |
| Chris Bourque | Sydney Giants |
| Giancarlo Brancati | Burnaby Eagles |
| CJ Brassington | Burnaby Eagles |
| Greg Bridges | Ottawa Swans |
| James Duggan | Toronto Dingos |
| Kyle Graham | Montreal Demons |
| Jordan Harcombe | Ottawa Swans |
| Quinn Hobbs | Burnaby Eagles |
| Mitch Home | Edmonton Wombats |
| Alex Huard | Ottawa Swans |
| Eric Klein | Burnaby Eagles |
| Trent Loosemore | Calgary Kangaroos |
| Clay Lund | Delta Bayhawks |
| Robin Macdonald | Burnaby Eagles |
| Alex Maloney | Wallan Magpies |
| Jacob Martin | Grand River Gargoyles |
| Adam Nash | Epping Blues |
| Jim Oertel | Burnaby Eagles |
| Garrett Reynolds | Toronto Eagles |
| Jaden Rubinstein | Old Geelong |
| Steve Rutledge | Edmonton Wombats |
| Justin Settle | Hamilton Wildcats |
| Ronan Shaughnessy | Old Montreal Dockers |
| Matthia Singh | Calgary Kangaroos |
| Nathan Strom | Ottawa Swans |
| Robert Tersigni | Toronto Rebels |
| Morgan Whyte | Montreal Demons |