Northern Lights IC17 squad named
Wednesday, September 14 2016 @ 10:20 pm ACST
Contributed by: Troy Thompson
Views: 2,076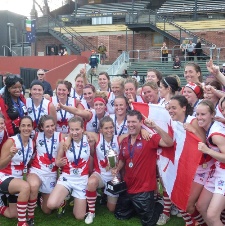 AFL Canada have named the women's team for the 2017 AFL International Cup in Melbourne. The squad of 30 to pull on the Northern Lights jumper and defend the title includes five members of the IC14 World Team and four players currently playing in Australia.
The will be the team to beat and will be competing for the title against 2014 runners up Ireland as well as the USA, a number of Pacific teams (likely Fiji, Tonga, NZ and PNG) as well as a combined European Crusaders team.
In 2014 a late decision was made to bring a second team to the International Cup but it appears that there will be no second Canadian team in 2017.
The following details of how selection was carried out is from the AFL Canada website.
Selection of the team followed a national team selection camp held from September 3-4, 2016 in Toronto, Ontario. The camp brought together over 50 players from across Canada participate in team orientation, theory sessions on game plan strategy, skills and fitness testing and three hotly contested and entertaining selection matches.
"Selection camp was a fantastic weekend. We challenged the group physically and mentally and they responded magnificently. Their commitment to raise the bar on our 2014 achievements is inspiring. The weekend also gave us the opportunity to gel as a group in preparation for the hard work that is needed over the upcoming months leading into IC17," said Head Coach Jason Arnold. "The coaching staff faced many very difficult decisions in selecting this squad, which is a testament to the high calibre of football being played in competitions across Canada."
In addition to the players who attended camp, an additional 18 players were available for selection to the Northern Lights, including ten Canadian players currently residing in Australia and developing their skills in local women's footy competitions.
The camp was a major milestone in the development of women's football in Canada, capping off a strong year of development that began with the Canadian National Championships in Vancouver, British Columbia in May 2016 and continued through league competitions in British Columbia, Alberta, Ontario and Quebec through summer 2016.
"With the high calibre of Northern Lights players and the strength of our coaching staff, the Northern Lights are well-positioned to defend their International Cup championship. With the launch of the AFL women's competition next year, 2017 will be a very exciting year for women's football and the Lights will be a major part of that excitement," said Arnold.
| Player | | Home Club |
| --- | --- | --- |
| Anna | Brancati | Vancouver Vixens |
| Marlena | Ginocchio | Vancouver Vixens |
| Erin | Regan | Vancouver Vixens |
| Jaya | Aulakh | Westcoast Wildcats |
| Danah | Arnold | Edmonton Emus |
| Charnelle | Willis | Edmonton Emus / UTS Shamrocks |
| Rachelle | Chabot | Calgary Kookaburras |
| Leslie | Gurba | Calgary Kookaburras |
| Caroline | Ireland | Calgary Kookaburras |
| Patricia | Jaworski | Calgary Kookaburras |
| Kirsti | Oja | Calgary Kookaburras |
| Hilary | Perry | Calgary Kookaburras |
| Alanna | Robertson | Calgary Kookaburras |
| Tricia | Rolfe | Calgary Kookaburras |
| Lyndsay | Smith | Calgary Kookaburras |
| Renee | Tong | Central Blues |
| Nicola | Kirwan | Etobicoke Kangaroos |
| Sarah | Ennor | High Park Demons |
| Jaclyn | Halliday | Hamilton Wildcats |
| Kendra | Heil | Hamilton Wildcats / Eastern Devils |
| Candace | Kwan | Hamilton Wildcats |
| Lia | Vansevenant | Hamilton Wildcats |
| Rebecca | Gomez | Ottawa Swans |
| Vivian | Nguyen | Ottawa Swans |
| Caroline | Leduc | Montreal Angels |
| Aimee | Legault | Montreal Angels |
| Margo | Legault | Montreal Angels |
| Valerie | Moreau | Montreal Angels |
| Chantal | Beaudin | University of Queensland |
| Lara | Hilmi | UTS Shamrocks |
| Alternates | | |
| Brandie | Corrigan | Edmonton Emus |
| Ashley | Gazley | Edmonton Emus |
| Jen | Nicholls | Edmonton Emus |
| Britta | Jorgenson | Calgary Kookaburras |
| Nicole | Robertson | Calgary Kookaburras |
| Vera | Santillana | Central Blues |
| Danielle | Comolli | Hamilton Wildcats |
| Dora | Bartulovic | Ottawa Swans |
| Holly | Vachon | Ottawa Swans |
| Alisa | Dafoe | Morphettville Park |