Croatian Knights & Irish Banshees Claim Euro Cup Honours
Sunday, October 09 2016 @ 08:48 am ACDT
Contributed by: Wesley Hull
Views: 2,645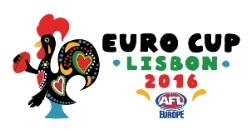 The AFL Europe Euro Cup in Lisbon, Portugal, has been completed with the Croatian Knights triumphant in the men's tournament and the Irish Banshees taking out the women's crown. The organisers of the event in Portugal did a wonderful job to showcase the best footy that Europe has to offer and congratulations are in order for their tremendous work.
The Croatian Knights won their second AFL Europe Euro Cup, and their first since downing the Netherlands in Milan, Italy, in 2010. They defeated the Irish Warriors, back in the final again for the first time since winning the title in 2012, in an incredible final that was decided in extra time. Scores were locked at 35 all at the final siren, but the Knights went on a 10 minute extra time assault to eventually win the title 53 to 39.
England defeated Germany to take out third place. France won the Euro Cup Bowl, finishing 5th overall whilst the Netherlands took out the Plate Final against Austria to finish 9th and 10th respectively.
The Irish Banshees downed the England Vixens to take out the women's tournament in their return to the event, having been absent from last year's tournament in Croatia. The Croatian Queens made it a great day for their nation, finishing third in the women's draw and winning the nation's first ever podium finish.
For host nation team Portugal, whilst they went winless on the field for the event, event co-organiser and AFL Portugal president, David Valente, described it as a major victory for the nation off the field and stated that it was simply "thrilling" to have their national team as a part of the event.
For full details of scores from the event when they have been posted, go to the AFL Europe website at:
www.afleurope.org