China game gets green light
Wednesday, October 26 2016 @ 02:06 pm ACDT
Contributed by: Troy Thompson
Views: 2,158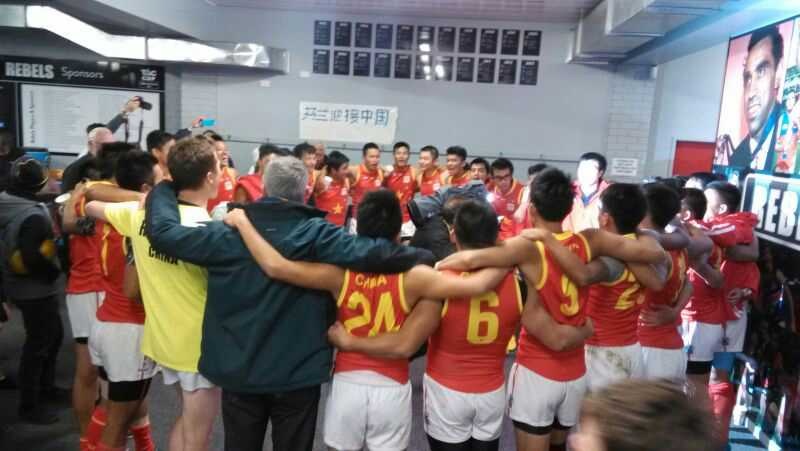 The mooted Port Adelaide match in China in 2017, the first outside Australia/New Zealand for premiership points has officially been given the green light. Port Adelaide will play their away match hosted by the Gold Coast Suns in Shanghai. The match will take place on Sunday, May 14.
The round eight clash was revealed this afternoon in Melbourne. The match will be show live into Australia at 3.20pm Melbourne time.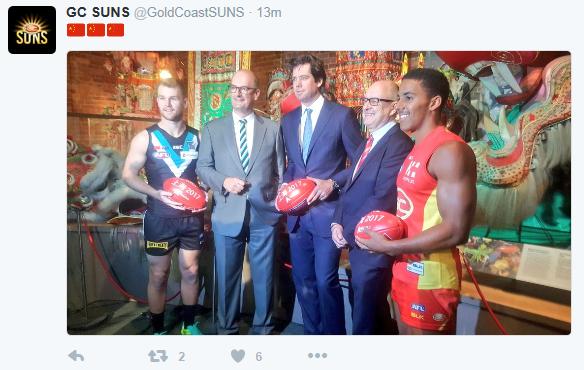 Picture (right) of the launch from Twitter.
The match will be played at the Jiangwan Stadium in Shanghai.
It is expected there will be matches and functions held by AFL Asia in Shanghai in conjunction with the match. We will have further details when they are announced.
The Port Adelaide Press Release Follows
Port Adelaide to host historic first game in China

Wednesday 26 October 2016


The Port Adelaide Football Club will make history as the host of the historic first AFL Premiership Season game in China.
The Power will travel to Shanghai's Jiangwan Stadium to play the Gold Coast Suns on Sunday May 14, in a game that will be broadcast back into Australia by host telecast partner Channel 7.
The game, which has been the product of more than two years' work by Port Adelaide in conjunction with the AFL and the Government of South Australia, follows on from the club's successful development of a broadcast rights deal with China's national broadcaster CCTV to show AFL football to the world's most populous nation during the 2016 season.
The Round 5 Anzac Round game was the most-watched minor round game in the history of the AFL, drawing approximately 4 million viewers between China and Australia alone.
A number of key commercial partners will support the game with a view towards strengthening ties with Australia's primary trading partner.
The Ausgold Mining Group – a gold and copper-ore mining exploration and development company with interests in Western Australia, Queensland and Broken Hill - is the official match day partner for the game.
Port Adelaide chairman David Koch said the success of the foray is the result of a two-year target to play premiership season football in China, as well as a longer strategy to establish a footprint in Australia's northern neighbour.
Playing in China is expected to open new commercial opportunities for the Power as it helps expand the global footprint of Australian football through game participation additional to an annual match.
That financial opportunity is something that the Power has identified as key to growing into one of the southern hemisphere's premier sports clubs.
"This is a moment many people thought would never happen, let alone as soon as 2017," said Mr Koch.
"The AFL will become the first elite foreign competition to play a regular season game for points in China, beating the likes of the NBA, English Premier League, Major League Baseball and NFL. That is a monumental achievement in itself and speaks volumes of the strength of the relationship between our two nations.
"This is so much more significant that just playing a game for premiership points on foreign soil. This is a landmark moment in the development of Australia's sporting, cultural, political, economic and tourism ties with China.
"The appetite for AFL football in China is even stronger than we could have imagined when Port Adelaide began forging relationships there."
A full audio/visual file of Mr Koch's press conference with AFL chief executive Gillon McLachlan and Gold Coast Suns chairman Tony Cochrane will be available on portadelaidefc.com.au<http://portadelaidefc.com.au> later.
What they said…
David Koch, Port Adelaide Football Club chairman
"Before the 2016 season we struck a deal with Central China Television to broadcast three games into China plus a weekly documentary featuring the development of our Chinese recruit Chen Shaoliang and highlights of each AFL round.
"The audiences for those initial games (of up to 4 million people) far exceeded our expectations and saw CCTV expand its coverage to broadcasting an entire AFL game every week.
"To get to the stage we are at now is thanks to the incredible amount of work already done by so many people within the Port Adelaide Football Club, The AFL, the Governments of both China and Australia, The Gold Coast Football Club and our business partners, in particular Mr Gui with ShanghaiCRED and Ausgold, the Chinese owned gold mining company operating in Broken Hill.
"The Ausgold story epitomises what this venture into China is all about and the potential it represents. Sally Zou, the CEO of Ausgold, saw a Port Adelaide game broadcast on CCTV in China and enquired about the club. Ausgold is now Port Adelaide's official match day partner for this game against Gold Coast.
"But this is not the end, this is really only the beginning, and the hard work really starts now.
"Our commitment goes so much further than just playing one game in China each year. The game of Australian football is becoming accessible to Chinese people from every walk of life as we continue to roll out education and participation programs in Chinese schools and universities. We are also making significant investments in Chinese social media platforms WeChat and Weibo."
The Hon Jay Weatherill MP, Premier of South Australia
"It's fantastic that Port Adelaide's dream of an AFL match in China is now officially a reality."

"This is a history-making step for the Port Adelaide Football Club and a pivotal moment for South Australia's relationship with our biggest trading partner.

"This is about more than a match of football.

"Sports diplomacy is an important part of our strategy to deepen our links with the world.

"Port Adelaide's partnership with China will help increase awareness of the South Australian brand, open doors for businesses, attract investment and create jobs.

"The State Government has already committed $250,000 towards a 25-episode documentary series called The AFL Show, which is produced by Port Adelaide to help raise the profile of South Australia in China."
Sally Zou, Ausgold Mining Group chief executive
"The Ausgold Mining Group are delighted to be the official Match Day Partner for the historic first AFL game to be played for premiership points in Shanghai.
"This game will be an exciting highlight of a new long term partnership with the Port Adelaide Football Club which will see Ausgold proudly supporting the Club and our respective communities in Adelaide, Shanghai, Broken Hill and across Australia!
"We are very proud to be involved in this ground breaking venture!"