Oceania Youth Cup Day 1 Lightning Premiership results


Day 1 of the 2016 Oceania Youth Cup tournament has again fired up with a round robin Lightning Carnival. The 4 nations able to attend this year have warmed up for the week ahead. The following report is courtesy of Ben Drew - AFL South Pacific Development Manager.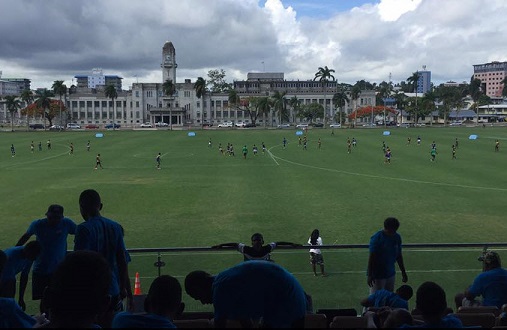 It certainly was a fantastic day of footy with Nauru hanging on to again take the Lightning Carnival in 2016. All 4 teams were terrific in their matches and already you can see the improvement from 9am this morning to now.
Teams played each other once in a round robin fixture playing 2 x halves.
The Nauru Stars started well with a tough win over a physical Tonga Thunder side, Fiji Jnr Tribe were too strong for the Solomon Islands Sharks who are back for the first time since 2012! Round 2 saw a wonderful game between Tonga & Solomon Islands with the Tongan team just kicking 2 goals very late to take a win. The Solomon Islands boys had some lightening passages transitioning the ball from Defence to attack with speed, they just failed to take their chances. It was a great game!
Fiji & Nauru played a nail biter which came down to Nauru being Smart with the ball and playing tempo footy against the breeze to hold on for a win. The next game saw a tired Fiji playing a fresh Tonga team! Tonga took it right up to Fiji and nearly took the points. Fiji had a shot after the siren to win, managed a point and scores finished level. A fitting end!
The day was spectacular with an amazing facility at Albert Park, great Support from the Fiji Sports Commission and Coke came down with plenty of Powerade for the players!
Tomorrow the Oceania Cup begins with teams playing 4 quarter footy at Albert Park. First Game at 10am with Fiji v Nauru then Solomon Islands v Tonga at 11 and Nauru v Tonga to finish the day at 1pm
Great start to the carnival and we are looking forward to more great footy over the next 4 days!
Match Results – Lightening Carnival
| Game 1: | Goals | Behinds | Total |
| --- | --- | --- | --- |
| Nauru Stars | 4 | 6 | 30 |
| Tonga Thunder | 0 | 1 | 1 |
Goal Kickers: Nauru Stars:
Robawoun Atsime 2, Maro Baguga, Hutch Dagagio
Tonga Thunder:
Nil
Best Players: Nauru Stars:
Karl Hartman, Robawoun Atsime, Wise Temaki, Johnson Olsson, Zenus Hiram, Maro Baguga
Tonga Thunder:
Inesi Ahomana, Fililangi Molipeli, Feofaaki Pulu, Pauliasi Tuifua, Samisoni Fetu'ani, Sione Havili
| Game 2: | Goals | Behinds | Total |
| --- | --- | --- | --- |
| Fiji Jnr Tribe | 8 | 3 | 51 |
| Solomon Island Sharks | 0 | 1 | 1 |
Goal Kickers: Fiji Jnr Tribe:
Rapoama Bola 2, Josefa Cameron, Alate Tuilevuka, Jone Radua, Rokua Kinivnai
Solomon Islands:
Nil
Best Players: Fiji:
Rapoama Bola, Jone Radua, Edward Mel, Napolioni Batimala, Alate Tuilevuka, Naibuka Salusalu
Solomon Islands:
Allen Thomas, Malysha Lea, Carlick Karoa, Nigel Konia, Jason Keniapisia, Keane Nimepo
| Game 3: | Goals | Behinds | Total |
| --- | --- | --- | --- |
| Tonga Thunder | 4 | 4 | 28 |
| Solomon Islands Sharks | 2 | 1 | 13 |
Goal Kickers: Tonga:
Brenton Ikamanu 2, Nathan Mafi, Inesi Ahomana,
Solomon Islands:
Allen Tarioha, Nigel Konia
Best Players: Tonga:
Brenton Ikamanu, Nathan Mafi, Inesi Ahomana, Pauliasi Tuifua, Uinisitoni Finau, Feofaaki Pulu
Solomon Islands:
Amini Vuicolo, Allen Tarioha, Malysha Lea, Nigel Willie, Inoki Tavailagi, Wayne Mitchel
| Game 4: | Goals | Behinds | Total |
| --- | --- | --- | --- |
| Nauru Stars | 3 | 1 | 19 |
| Fiji Jnr Tribe | 1 | 3 | 9 |
Goal Kickers: Nauru:
Maro Baguga, Winzar Kakiouea, Speedy Hubert
Fiji:
Maloni Malumuiri
Best Players: Nauru:
Karl Hartman, Robawoun Atsime, Wise Temaki, Gaissa Jones, Richard Waqa, Johnson Olsson, Jesse Kaierua
Fiji:
Rapoama Bola, Maloni Malumuiri, Edward Mel, Jone Radua, Jolame Vunisa, Naibuka Salusalu
| Game 5: | Goals | Behinds | Total |
| --- | --- | --- | --- |
| Fiji Jnr Tribe | 1 | 2 | 8 |
| Tonga Thunder | 1 | 2 | 8 |
Goal Kickers: Fiji:
Rapoama Bola
Tonga:
Viliami Ma'asi
Best Players: Fiji:
Rapoama Bola, Edward Mel, Jone Radua, Alate Tuilevuka, Baibuka Salusalu, Jolame Vulisa
Tonga:
Brenton Ikamanu, Pauliasi Tuifua, Inesi Ahomana, Fililangi Molipeli, Uinisitoni Finau
| Game 6: | Goals | Behinds | Total |
| --- | --- | --- | --- |
| Nauru Stars | 5 | 5 | 35 |
| Solomon Islands Sharks | 0 | 1 | 1 |
Goal Kickers: Nauru:
Arlador Temaki, Karl Hartman, Hutch Dagagio, Geraca Hiram, Maro Baguga
Solomon Islands:
Nil
Best Players: Nauru:
Karl Hartman, Hutch Dagagio, Robawoun Atsime, Johnson Olsson, Gaissa Jones, Richard Waqa
Solomon Islands:
Emosi Meo, Carlick Karoa, Rashan Maenu, Keane Nimepo, Allen Thomas, Malysha Lea
The late Graeme Wilson would have been so proud to see the Solomon Sharks in attendance :