Irish Warriors Squad Named For IC17
Friday, December 23 2016 @ 01:59 pm ACDT
Contributed by: Wesley Hull
Views: 2,119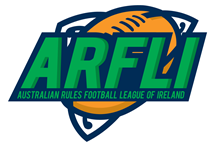 The fortunes of the Irish men's and women's squads for the upcoming IC17 tournament in Melbourne next August are already on the rise with their announcement last month of the men's Warriors squad. Selectors and team officials will continue to fine tune the squad over coming months in preparation. The women's Irish Banshees squad will be announced in due course.
The Irish Warriors management team have today named an extended Ireland based training squad for the 2017 AFL International Cup. More players may be added in the weeks ahead depending on performance in the Winter Championship and arrangements are also being made for UK and Australia based players to train and have trials and these will be announced in the coming weeks.
  A final squad of 30 players will be selected from the three groups in the spring. The final management team for the tournament has been confirmed today too, with Mick Finn joining Brian Currane and Ciaran O' Hara on the senior coaching staff. The team will be managed by Michael Currane, and Paul Ryan will once again serve as tour manager.
Squad:
Gareth Baird
Muiris Bartley
Matt Bell
Liam Burns
Oisin Collins
Kieran Conroy
James Galvin
Stephen Guing
Rochford Hanmore
Sean Paul Henry
Luke Hickey
Domnic Joyce
Brendan Kelly
David Lally
Adam Looney
Colin Lordan
Mark McCauley
Ryan McCloskey
Brendan McDevitt
Kevin McDonnell
David McElhone
Sean McGlinchey
Stuart McKeating
Tom McKenna
Kevin McSorley
Paul Murphy
Gavin Murray
Padraic O Connell
Paul O Halloran
Kevin O Sullivan
Shane O Sullivan
Seamus Owens
Ronan Sheehan
Peter Traynor
Gerard Walls
John White
For more information on Ireland's IC17 campaign or other new regarding Australian footy in Ireland, you can visit their website at: www.arfli.com