2016 World Footy News - World Team
Saturday, December 31 2016 @ 08:00 pm ACDT
Contributed by: Troy Thompson
Views: 5,854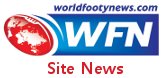 The AFL's All Australian team was announced back in September this year. State of Origin football is in a long hiatus - but theoretical State teams are announced each year - the Big Footy Forum has a selection of user submitted teams here for 2016. They take in Victoria, South Australia, Western Australia as well as an Allies team (NT, Tasmania, ACT, Queensland and NSW).
But what about the rest of the world? If the Rest of the World were to play against any of the teams above, what is the best team they could muster? We have determined eligibility along the line of the International Cup eligibility rules and we have named the 2016 World Team (so this does not include foreign born but Australian raised players).
Irishman Pearce Hanley has been named captain of the 2016 team despite what was perhaps a below par year by his standards at the Brisbane Lions. He will of course hope to return to form in 2017 with his new club the Gold Coast Suns.
As with the International Cup the coach can be Australian but should have a strong link with international football. This year we have selected the coaches of the Indonesian Garudas that won the Indochina cup against China and Indochina in Vietnam.
In addition to those currently on AFL lists (including International Scholarships) we have named the o'hAilpin brothers who have dominated for a third year running in the Ovens and Murray Football League (and were formerly on AFL lists). Mick Finn the Irish International Cup captain continued his great form for Heidelberg in the Northern Football League in their premiership season and again has been selected. Also among the emergencies named are AFL Europe players Mikkel Kjoege, Sam Willatt and Josip Habljak who all made state league lists in Australia in 2016.
This team is intended to be an annual announcement, you can see last year's team here.
Here is our 2016 World Team