Fiji Tribe and Vonu set for IC17 return
Thursday, February 16 2017 @ 09:45 am ACDT
Contributed by: Troy Thompson
Views: 1,878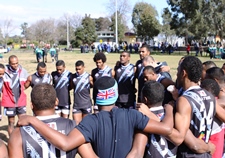 AFL Fiji development officer Simon Highfield today confirmed in the Fiji Times that the nation would once again be sending men's and women's teams to the AFL International Cup to be held in Melbourne in August.
"It is the biggest event on the AFL calendar internationally, with over 30 countries competing, and both Fijian teams are going to be extremely competitive."
This announcement comes as the local competition kicks off their 2017 season this weekend and will drive selection for the IC17 tournament.
Fiji Tribe debuted at IC11 and finished 13th, followed by a tenth place finish at IC14.
The women's team (Fiji Vonu) finished fifth in their first International Cup at IC14. Their opponents that have publicly indicated they will be sending teams so far are the USA, Ireland, Canada, PNG, Great Britain and a European Crusaders team.
Both teams have would hope to improve their standing again at IC17 after solid seasons, regular training and growth in the past two seasons.