European Crusaders Call To Action For IC17
Wednesday, March 08 2017 @ 03:20 pm ACDT
Contributed by: Wesley Hull
Views: 2,427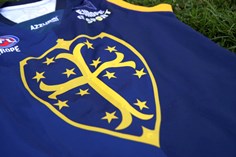 The European Crusaders team is on a mission. Slava Belov, the founder of the St Petersburg Cats in Russia, is also part of the management team for the European Crusaders for the upcoming IC17 tournament in Melbourne later this year. He is seeking players for the team and is scouring the world in pursuit of those who want to be a part of the honour and excitement.
According to Slava, "we are now gathering players for the Crusaders team for IC17. We want to give a shout to Europeans in Australia or elsewhere in the world who could possibly join the squad with the question "[are you] interested in heading to the AFL International Cup with the European Crusaders IC17?"
Details about the background of the International Cup and the European Crusaders team, along with links to register for this year's teams, can be found on the AFL Europe website at the following link:
http://www.afleurope.org/european-cru...t-at-ic17/
But, as Slava points out, prospective players need to be aware of the new rules governing selection criteria to become a Crusader player – men's or women's. In our previous story at World Footy News, "Each squad must have no more than 12 players who are based in Australia at the time of submitting team lists and that of those 12 players, the squad has no more than 3 players who have played Australian Football for 5 or more consecutive years in Australia (including the 2017 season) leading into IC17." See details in original story
2017 International Cup eligibility rules to change
As pointed out by the AFL Europe website, "The European Crusaders are team's made up of players whose home nations are unable to send a team of their own. It provides players from Europe with the opportunity to experience the International Cup and compete against the best teams from around the world.
This is a great opportunity for players who meet the new selection criteria to have a chance at playing in an international team at the IC17 event in Melbourne from 5th to 19th August. For more information, contact AFL Europe via the link above, or Slava by way of the St Petersburg Cats Facebook page:
https://www.facebook.com/viacheslav.belov