FOOTY AROUND THE WORLD: New Zealand

The following story originally appeared on Frederick's Blog and the original article can be found here.
When you think of sports in New Zealand, your mind generally goes to rugby union. The All-Blacks, the country's national team, are the winningest team in any sport anywhere in the world. But Australia's Oceanic neighbor is home to a small-but-growing community of Aussie rules footballers.
Footy was introduced to New Zealand in 1868, but the majority of the original clubs were eventually pressured or convinced into switching to soccer or rugby rules. Aussie rules was not seen as a sport that had staying power among Kiwis, and the game didn't catch on for many decades.
In the 1910s, a sizable wave of Aussie immigrants began arriving in New Zealand, particularly in Christchurch (the largest city in the South Island). In 1903, several Melbourne natives formed the New Zealand Association of Australian Football, with four clubs competing. In the larger cities of Wellington and Auckland, some other small regional leagues were formed, and the country was able to send two representatives to the Australasian Football Council in 1905. However, when World War I broke out, the Kiwi leagues dissolved and footy was largely a dead sport for the next 50 years.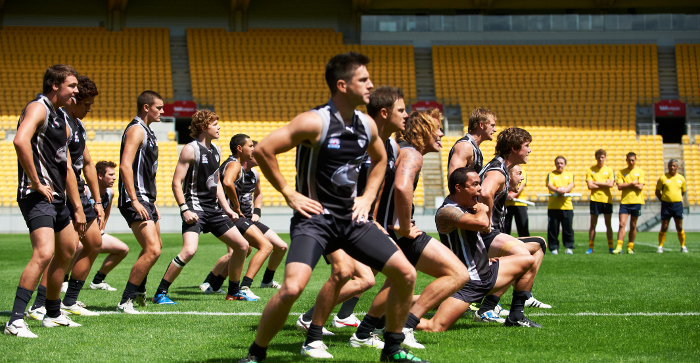 In 1974, the leagues in the aforementioned New Zealand cities began forming an organized competition again, and the sport began experiencing small-but-steady growth throughout the 70s and 80s. In 1995, the New Zealand Falcons were born as the national footy team.
In 1995, 1997, and 1999, footy-playing Kiwis were able to play at the international level for the first time, competing in the Arafura Games, a biennial multi-sport event held in the Australian city of Darwin. All three years, the Kiwis finished as runners-up to Papua New Guinea.
A couple of years later, the AFL officially incorporated their New Zealand competition and have since hosted several AFL preseason exhibition matches. In 2013, New Zealand became the first country outside of Australia to host a regular-season AFL game. The St Kilda Saints took on the Sydney Swans at Westpac Stadium in Wellington, in front of over 23,000 fans.
The Saints have arranged an agreement that allows them to play a game every ANZAC Day (April 25th) at Westpac Stadium until 2017.
The New Zealand AFL currently has only 600 registered players, but there has been tremendous growth in the participation rate among schoolkids, and there are over 35,000 players nationwide as of 2016.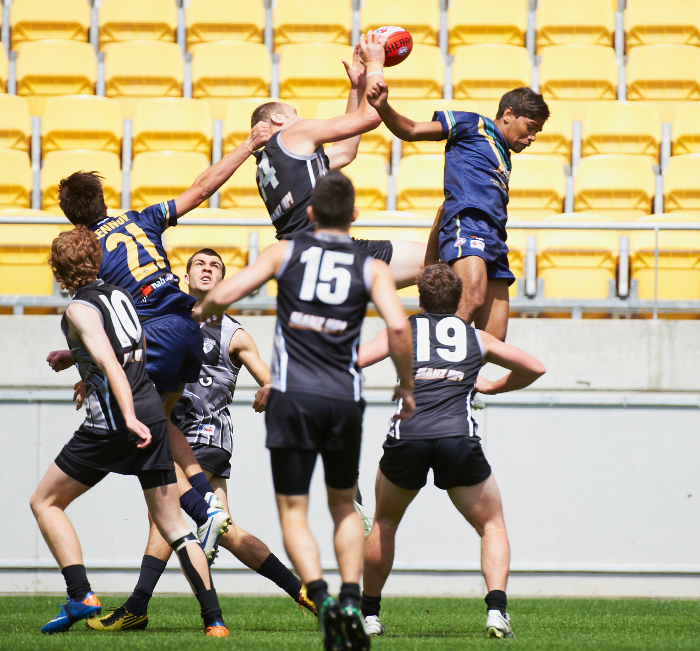 KIWIS IN THE AFL

•Ben Rutten (played 2003-2014) – A noted key defender, Rutten is an Adelaide native whose mother was a Kiwi. He played in 229 career games, all with his hometown Adelaide Crows, earning All-Australian honors in 2005.

•Paul Bower (played 2006-2012) – Defender who was drafted #20 overall by Carlton and played there for his entire AFL career. Currently plays with the Heidelberg Football Club in the Northern Football League. He is of Maori descent and sports numerous tribal tattoos reflecting his heritage.

•Shane Savage (played 2009-present) – Born in New Zealand and moved to the Melbourne region as a kid. Was an AFL Rising Star nominee during the 2011 season and currently plays for St Kilda.

•Jarrad Jansen (played 2014-present) – A 6'3″ midfielder who was born in New Zealand, but grew up in metropolitan Perth. Jansen was drafted by Geelong but never played for them in two seasons, getting traded to the Brisbane Lions last year, when he played in seven games.

•Danny Dickfos (played 1996-1999) – Kiwi native who spent most of his formative years in Queensland. Played three seasons with the Brisbane Lions and one with their predecessors, the Brisbane Bears. Retired from the AFL in 2000 and returned to his old team in the Queensland Australian Football League (QAFL).

•Adam Campbell (played 2006-2009) – Born and raised in Christchurch, New Zealand and played rugby union as a junior before moving to Victoria, Australia at age 16. Played forward with the Fremantle Dockers, but his career was marked by injuries.

•Trent Croad (played 1998-2010) – Born in New Zealand and emigrated to metropolitan Melbourne as a boy. Six-time All-Australian who played for Fremantle and had two separate stints at Hawthorn (1998-2001 and 2004-2010).

•Donald Dickie (played 1997-2000) – Native Kiwi who moved to Adelaide as a kid; played wing for Port Adelaide and was a fan favorite, playing 55 career games. Currently coaches in the South Australian National Football League (SANFL).

•Aaron Edwards (played 2003-2014) – Born in Samoa to a Kiwi father and a Samoan mother. Moved to Australia at the age of two, playing soccer and rugby union before picking up footy at age 13. Played with North Melbourne, West Coast, and Richmond.

•Karmichael Hunt (played 2011-2014) – Auckland native who played 44 career games with the Gold Coast Suns. Father is Samoan and mother is Kiwi. Also competed in the National Rugby League with the Brisbane Broncos (2004-2009) and is currently on the Queensland Reds rugby union team.

•Daniel McAlister (played 1997, 2001-2002) – Ethnic Maori from Taranaki Region, New Zealand. He moved to Tasmania at age 12 and played in six career games over three seasons with the Essendon Bombers.

•Kurt Heatherley (played 2014-present) – Originally from Tauranga in the North Island of New Zealand, Heatherley relocated to Melbourne as a teenager to attend Caulfield Grammar School. Heatherley got involved with high-level footy competitions while finishing school and began drawing attention from the AFL. A key defender, he was selected by the Hawthorn Hawks in the 2014 rookie draft.

•Brent Renouf (played 2008-2014) – Kiwi native who moved to Gold Coast as a kid and took up footy with the Southport Sharks in the Queensland Australian Football League. Played four seasons with Hawthorn and three with Port Adelaide.

•Dustin Martin (played 2010-present) – A popular utility player for the Richmond Tigers, Martin's father is Maori and his mother is Australian. He grew up in the rural Victorian town of Castlemaine and was the #3 overall pick by Richmond in 2009.

•Aaron Edwards (played 2003-2014) – Edwards grew up in Melbourne as the son of a Samoan mother and a Kiwi father. He played rugby union until the age of 13. After originally being drafted by West Coast, Edwards emerged as a high-scoring forward during six seasons with the North Melbourne Kangaroos. He finished his career with Richmond.

•Greg Broughton (played 2009-2015) – Broughton, who is of partial Maori descent, grew up in Western Australia. He played four seasons with the Fremantle Dockers before moving to the Gold Coast Suns in 2013. A midfielder, Broughton played 110 career games before retiring in 2015.

•Wayne Schwass (played 1988-2002) – Two-time best and fairest winner with North Melbourne who also spent five years with the Sydney Swans. He is of Maori descent and emigrated with his family to Victoria at age 10. Currently works as an AFL commentator.

•Nathan Van Berlo (played 2005-2016) – Born and raised in Perth, Western Australia to Kiwi parents. Played his entire career with the Adelaide Crows.

•Max Gawn (played 2010-present) – Gawn was raised primarily in Melbourne, born to parents who hailed from the South Island of New Zealand. Considered one of the best ruckmen in the game, Gawn has played his entire career for the Melbourne Demons. In addition to his footy prowess, Gawn also played basketball and rugby union as a teenager.
LEAGUES

•Auckland Australian Football League •Manurewa Raiders
•North Shore Tigers
•University of Auckland Blues
•Mt Roskill Saints
•Takapuna Eagles
•Waitakere Magpies
•Canterbury Australian Football League •Christchurch Bulldogs
•Eastern Blues
•University Cougars
•Mid-Canterbury Eagles
•Waikato Australian Football League •Tuis
•Mavericks
•Redbacks
•Wellington Australian Football League •North City Demons
•Hutt Valley Eagles
•Eastern Suburbs Bulldogs
•Wellington City Saints