German Eagles name initial squad for inaugural International Cup campaign
Friday, March 17 2017 @ 08:19 pm ACDT
Contributed by: Aaron Richard
Views: 2,908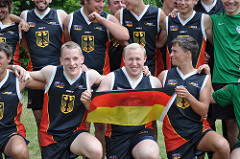 For the first time in the history of the International Cup, the AFLG are this year sending the German men's national team Down Under to compete for glory.
Footy has had a toehold in Germany since the Frankfurt Redbacks and Munich Kangaroos formed in the 1990s, and the domestic scene has grown over the past 20 years to also involve clubs in Berlin, Hamburg, Cologne, Stuttgart, Freiberg and Dresden, with some clubs also running local metro leagues.
However, until now the Germans only competed at European-based tournaments.
This is set to change in August, with the Eagles naming their initial 23-man squad, with another 5-7 players to be added in the coming weeks.
The initial squad is as follows:
Frankfurt Redbacks: Constantin Pixa, Martin Krichler
Berlin Crocodiles: Felix Grob
Munich Kangaroos: Sebastian Esche, Johannes Binninger, Jan Hüsken, Robert Macher, Ruben Streicher
Hamburg Dockers: Fabian Cordts, Lucca Gilliard, Florian Naumann, Johannes Sartory
Rheinland Lions: Philip Evermann, Jascha Jung, Jan Korfmacher, Tobias Menzel, Roland Odenthal, Johannes Orlowski, Henrik van de Stay, Julian Wichmann
Stuttgart Emus: Jakob Jung, Gerrit Jung, Martin Schüttoff