Mumbai Football League Up and Running In India
Friday, March 24 2017 @ 01:54 pm ACDT
Contributed by: Wesley Hull
Views: 2,163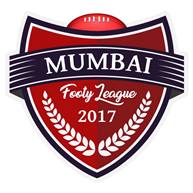 Australian Rules football has been growing impressively across India for a number of years now, driven in no small way by the drive and foresight of many people, most notably Sudip Chakraborty who was able to get the game accepted in states across India. Most commonly this saw small localised one-off tournaments or larger national events – almost all of which were singular annual events.
The first national tournament, the Indian National Championship Of Australian Football, run under the guise of AFL India was held in Calicut (Kerala state) in 2012, then Goa in 2013, Mumbai in 2014, Kolkata in 2015 and again in 2016. These were the foundation blocks for which localised competitions could potentially grow.
But the Mumbai Footy League, in conjunction with Reclink India and India Unbound, has launched the first ongoing home and away season for teams. The launch this year of the Mumbai Footy League's MFL17 season sees a competition which will be replicated by Reclink India across other Indian states and cities over time.
The format is an AFL 9's setup but with full contact. The MFL17 season runs across 15 rounds throughout March and April, culminating with a Grand Final on the 1st May. The competition is open age and the following teams from across parts of Mumbai are featured:
Matunga Tigers (one of the original Mumbai-based teams)
Mahim Cats (also an original Mumbai-based team)
Churchgate Lions
Charni Road Eagles
Grant Road Bombers
Mumbai Central Giants
According to league co-ordinator, and long-time devotee of the game in India, Sumesh Sawant, "this is the first league tournament ever played in Mumbai in India. We played the Mumbai Footy Cup as a two day tournament [previously] but this time we playing [as a whole] league."
"We are not part of AFL India anymore. We are separate body now as Reclink India which is part of Reclink Australia. We are running our footy activities separately all over India."
Whilst Reclink would be the first to admit that they couldn't be where they are today without the work of so many others to promote and drive the game across India, it is commendable that the organisation is taking the proactive stance to push a city wide competition as a blueprint for growth elsewhere in the sport loving nation.
The opportunities for further growth and acceptance of the Australian national game will increase dramatically as further city-based competitions appear, and this is where Reclink's endeavours will be invaluable to Australian Rules football in India.
But for now, fans can get behind the Mumbai Footy League and support the Cats, Tigers, Lions, Bombers, Giants or Eagles and fall in love with the game.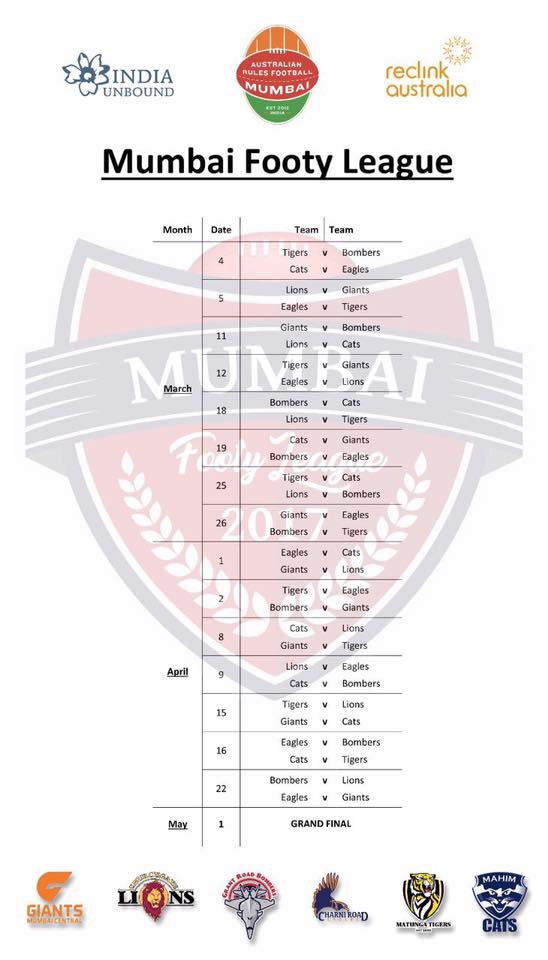 2017 MFL Draw