Magpies sneak home in top of table clash - AFL Nauru Round 5
Wednesday, April 12 2017 @ 05:13 pm ACST
Contributed by: Troy Thompson
Views: 2,015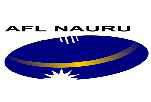 A huge round of footy in Nauru on the weekend saw the top of the table clash decided by a goal and the other two matches by five points. The Magpies cemented top spot with their 6 point win over the Bombers with Kenneth Oppenheimer kicking three goals for the winners. Both sides will play off again next week, this time in the Qualifying final for a spot in the Grand Final.
FRIDAY APRIL 7, 2017
CATS SCRATCH DOGS IN A THRILLER
It was a tight and tough contest from the outset as players went in hard. The contest was tough as both teams tried hard to gain control but nothing could separate them going into the last quarter. Going with a slight breeze in the last quarter, it was the Cats that won most of the ball and kept the game in their half for most of the quarter.
But despite winning more possessions in the last, the Cats squandered their opportunities frequently missing easy shots at goal. The Bulldogs were more accurate and with young player Blame Maaki kicking 2 goals in the last quarter, they remained dangerously close.
In the dying minutes Cats dangerman Shawn Kemp Maaki slotted a goal from a tight angle to take the lead and they held on to win by 5 points in a thriller.


CATS     2.2 3.5 5.5 8.11.59
BULLDOGS 1.1 3.3 5.5 8. 6.54
GOALS
Cats: Wilmos Deiye 2, Pilo Dagiaro 2, Trent Depaune, George Dowiyogo, Peter Hiram, Shawn Kemp Maaki
Bulldogs: Blame Maaki 3, Aykers Daniel 2, Anvickson Jeremiah, Nanniten Temaki, Donatello Moses
BEST
Cats: Tiana Waidabu, Shawn Kemp Maaki, Otto Adam, Wilmos Deiye, Greigor Uera, Pilo Dagiaro
Bulldogs: Angus Cook, Anvickson Jeremiah, Kenzo Mobit, Patrick Agadio, Niga Haulangi, Aykers Daniel
INJURIES – Nil REPORTS – Nil
Umpires: Jaxon & Nicholas
SATURDAY, APRIL 8, 2017
KANGAROOS EDGE OUT THE HAWKS
With both teams missing out on the finals next week, the players were playing for team pride and selections for the upcoming Nauru Chiefs tour. Young Hawk star Darnel Diema again led the way for the Hawks with a game high of 26 disposals and 4 marks. He was assisted by the skillful Darby Rodiben who picked up 15 disposals most of them contested. Hawk ruckman Jencke dominated the ruck winning 20 hitouts. For the Roos, their skipper Charles Dagiaro was again outstanding with 21 disposals and 7 clearances. His ability to read the ruck enabled the Roos to win possession giving alot of opportunities to their forward line to kick goals. Marcus Detenamo and Bronco Deidenang kicked 3 goals each for the Roos with young Roo Kualumpa Tannang chimed in with 2 goals. In the last quarter, the teams went goal for goal and if the Hawks had kicked straight, they would have won taken the points, but it was not to be as the Roos held on edging out the Hawks by 5 points.


KANGAROOS 1.1 4.2 9.5 13. 6.84
HAWKS     2.4 3.6 7.8 11.13.79
 
GOALS
Kangaroos: Marcus Paul Detenamo 3, Bronco Deidenang 3, Deamo Baguga 2, Kualumpa Tannang 2, Jenson Thoma, Jarmen Pole, Charles Dagiaro
Hawks: Issel Daniel 3, Abwit Aliklik 2, Zackeanu Deidenang 2, Mumu Dowabobo, Renack Mau, Darby Rodiben, Cazaly Jeremiah
BEST
Kangaroos: Tanga Rupert, Greco Tom, Marcus Paul Detenamo, Jarmen Pole, Shenko Canon, Charles Dagiaro
Hawks: Darnel Diema, Oquan Cook, Darby Rodiben, Issel Daniel, Zackeanu Deidenang, Abwit Aliklik
INJURIES – Nil REPORTS – Jeremiah Kam (ankle)
Umpires: Rudeen & Nicholas
TOP OF TABLE CLASH LIVED UP TO EXPECTATIONS
Many expected the top of the table clash to be a tight and entertaining contest and they were not disappointed. The game was played at a frantic pace in the 1st quarter and it was the Magpies who gained the ascendancy and skipped away to a 4 goal lead at the 1st break. In the second the Magpies maintained their lead, controlling and winning the contests in the middle and around the ground. In the 3rd the Bombers made a charge with consecutive goals to Bremoki, Tipung and German but the Magpies responded with goals from Kenneth and Daiga to maintain a 4 goals lead heading into the last quarter. In the last Kaison fired up the Bombers with strong contested marks and 2 quick goals to build momentum for his team. Bremoki added another goal to cut the margin to one goal with 10 minutes left on the clock.

The teams then battled it out right to the end. They traded goals. Magpies would goal to stretch the margin to 2 goals but the Bombers would hit right back. It was a tough and fantastic contest, as both teams went in hard. In the end it was the Magpies who held on desperately to score a memorable 6 point win.


MAGPIES 5.4 9.4 12.5 14.9.93
BOMBERS 1.1 4.2  8.7 13.9.87
 
GOALS
Magpies: Kenneth Oppenheimer 3, Bagewa Detudamo 2, Dave Mwaredaga 2, Jayco Ageidu 2, Richmond Spanner, Reed Dageago, Aaron Canon, Iverson Star, Daiga Deireragea
Bombers: Tipung Kamtaura 3, Bremoki Maaki 2, Kaison Tatum 2, Khyde Menke, Cornelius Taneara, Daniel Daniel, German Grundler, Tango Hubert, Agir Amwano

BEST
Magpies: Dave Mwaredaga, Mallinson Batsiua, Buddy Detageouwa, Kenneth Oppenheimer, Bagewa Detudamo, Richmond Spanner
Bombers: Rassie Deireragea, Robroy Grundler, Johnny Dagiaro, Agir Amwano, Kaison Tatum, Tango Hubert
INJURIES – Nil REPORTS – Kash Dongobir (Bombers) reported for spitting on Richmond Spanner (Magpies). Guilty, suspended 3 weeks.
Umpires: Jaxon & Brian
LEADING GOALKICKERS
Bronco Deidenang (Kangaroos) 20
Jamie Tagamoun (Hawks) 12
Kenneth Oppenheimer (Magpies) 11
Issel Daniel (Hawks) 11
Khyde Menke (Bombers) 11
Aykers Daniel (Bulldogs) 11
Jayco Ageidu (Magpies) 10
Richmond Spanner (Magpies) 10
Marcus Detenamo (Bombers) 9
Tango Hubert (Bombers) 9
Yoshi Harris (Magpies) 9
Snuka Adire (Bulldogs) 8
Kaison Tatum (Bombers) 8
Bremoki Maaki (Bombers) 8
Trent Depaune (Cats) 8
Shawn Kemp Maaki (Cats) 7
Reed Dageago (Magpies) 7
Joeson Kanimea (Kangaroos) 7
CONGRATULATIONS BRONCO DEIDENANG (KANGAROOS) TOP GOALKICKER 2017

LADDER
1 MAGPIES  16
2 BOMBERS  12
3 CATS     12
4 BULLDOGS 10
5 KANGAROOS 8
6 HAWKS     2
NEXT WEEK
SATURDAY 15, APRIL 2017
9.00AM ELIMINATION FINAL
CATS VS BULLDOGS
* WINNER ADVANCES TO PRELIMINARY FINAL AND PLAY AGAINST LOSER
OF QUALIFYING FINAL; LOSER IS ELIMINATED.
11.00AM QUALIFYING FINAL
MAGPIES VS BOMBERS
* WINNER ADVANCES TO GRAND FINAL. LOSER PLAYS WINNER OF THE
ELIMINATION FINAL IN THE PRELIMINARY FINAL.