South Pacific kick off Qld U16 Championships campaign today
Wednesday, April 26 2017 @ 08:36 am ACST
Contributed by: Troy Thompson
Views: 2,286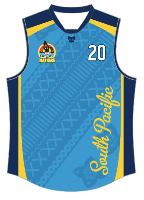 The South Pacific Under 16 team today kickoff their 2017 Queensland Under 16 Championships at the Moreton Bay Central Sports Complex, Burpengary.
Representative teams from Brisbane South, Brisbane North, Sunshine Coast, Gold Coast, North Queensland and South Pacific will compete in the four day carnival.
The squad selected from across the South Pacific is dominated by PNG, with 14 representatives.
The Queensland Under 16 State Academy Squad will be chosen at the completion of the carnival and will go on to play in the NAB AFL Under 16 Championships in June.
The tournament schedule can be seen below.
The full South Pacific squad is:
| Player | Country |
| --- | --- |
| Allen Tarioha | Solomon Is. |
| Balthasar Talania | PNG |
| Carl Kaiyage | PNG |
| Charliong Gilupa | PNG |
| Collin Kabavas Kennedy | PNG |
| Daniel Harry Koivi | PNG |
| Edward Mel | Fiji |
| Elizah Agege | Nauru |
| Gerard Ranky Fungke | PNG |
| Hewago Paul Oea | PNG |
| Inesi Ahomana | Tonga |
| Jason Keniapisia | Solomon Is. |
| Jason Logi | PNG |
| Joe Yamog | PNG |
| Jone Radua | Fiji |
| Karl Hartman | Nauru |
| Kevin Chan | PNG |
| Nelson Ulume | PNG |
| Rapoama Bola | Fiji |
| Rex Peregua | PNG |
| Uinistoni Finau | Tonga |
| Wise Temaki | Nauru |
| Woewodin Thoma | Nauru |
| Xavier Francis Kombong | PNG |
| Yatom Werner | PNG |