2017 AFL International Broadcast Schedule: Round 8
Thursday, May 11 2017 @ 09:40 pm ACST
Contributed by: Troy Thompson
Views: 1,615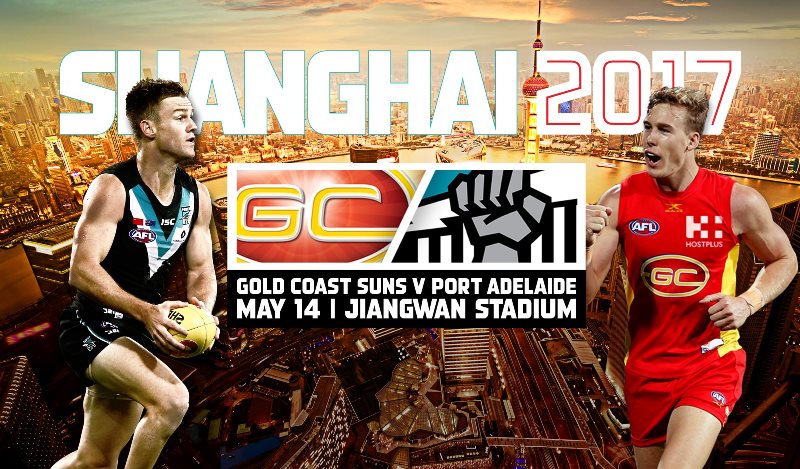 Round 8 of the 2017 AFL Season kicks off at Domain Stadium in Perth on Friday night with the West Coast Eagles hosting the Western Bulldogs.
The historic match played in Shanghai between the Gold Coast Suns and Port Adelaide will be broadcast live in China on GZTV and SMG (with Mandarin commentary).
In addition to the TV networks you can also subscribe to the Watch AFL service that will give you live access to all the matches and more (outside Australia only). You can access that service by clicking on the link here or the Watch AFL banner below and paying the subscription fee.
| MATCH | DATE | TIMESLOT | MATCH | VENUE | STATE | LOCAL TIME | GMT |
| --- | --- | --- | --- | --- | --- | --- | --- |
| 1 | 12-May | Night | West Coast Eagles vs. Western Bulldogs | Domain Stadium | WA | 18:10 | 10:10 |
| 2 | 13-May | Day | Hawthorn vs. Brisbane Lions | UTAS Stadium | TAS | 13:45 | 03:45 |
| 3 | 13-May | Day | St Kilda vs. Carlton | Etihad Stadium | VIC | 14:10 | 04:10 |
| 4 | 13-May | Twilight | GWS GIANTS vs. Collingwood | Spotless Stadium | NSW | 16:35 | 06:35 |
| 5 | 13-May | Night | Essendon vs. Geelong Cats | MCG | VIC | 19:25 | 09:25 |
| 6 | 13-May | Night | Adelaide Crows vs. Melbourne | Adelaide Oval | SA | 19:10 | 09:40 |
| 7 | 14-May | Early | Richmond vs. Fremantle | MCG | VIC | 13:10 | 03:10 |
| 8 | 14-May | Day | Gold Coast SUNS vs. Port Adelaide | Jiangwan Sports Centre | CHINA | 13:15 | 05:15 |
| 9 | 14-May | Twilight | North Melbourne vs. Sydney Swans | Etihad Stadium | VIC | 16:40 | 06:40 |

| TERRITORY/NETWORK | MATCH 1 | MATCH 2 | MATCH 3 | MATCH 4 | MATCH 5 | MATCH 6 | MATCH 7 | MATCH 8 | MATCH 9 | HIGHLIGHTS |
| --- | --- | --- | --- | --- | --- | --- | --- | --- | --- | --- |
| TELEVISION | | | | | | | | | | |
| AUSTRALIA PLUS | | | | | | | | | | |
| Asia | 12/5 @ 18:00 HKT (Live) | 13/5 @ 11:30 HKT (Live) | - | 13/5 @ 14:30 HKT (Live) | - | 13/5 @ 17:30 HKT (Live) | 14/5 @ 16:00 HKT (Delay) | 14/5 @ 13:00 HKT (Live) | - | 18/5 @ 10:30 HKT |
| Pacific | 12/5 @ 22:00 Fiji (Live) | 13/5 @ 15:30 Fiji (Live) | - | 13/5 @ 18:30 Fiji (Live) | - | 13/5 @ 21:30 Fiji (Live) | 14/5 @ 20:00 Fiji (Delay) | 14/5 @ 17:00 Fiji (Live) | - | 18/5 @ 14:30 Fiji |
| India | 12/5 @ 15:30 IND (Live) | 13/5 @ 09:00 IND (Live) | - | 13/5 @ 12:00 IND (Live) | - | 13/5 @ 15:00 IND (Live) | 14/5 @ 13:30 IND (Delay) | 14/5 @ 10:30 IND (Live) | - | 18/5 @ 08:00 IND |
| ECONET | | | | | | | | | | |
| Africa | 12/5 @ 01:10 CAT (Live) | - | - | 13/5 @ 09:35 CAT (Live) | - | 13/5 @ 12:40 CAT (Live) | - | - | 14/5 @ 9:45 CAT (Live) | 17/5 @ 08:15 CAT |
| ESPN - BT SPORT | | | | | | | | | | |
| UK & Ireland | 12/5 @ 11:00 BST (Live) | - | - | 13/5 @ 07:30 BST (Live) | - | 13/5 @ 10:30 BST (Live) | 14/5 @ 04:00 BST (Live) | - | 14/5 @ 07:30 BST (Live) | 16/5 @ 18:30 BST |
| GZTV (Mandarin commentary) | | | | | | | | | | |
| China | - | - | - | - | - | - | - | 14/5 @ 13:00 CST (Live) | - | 17/5 @ 20:00 CST |
| SMG (Mandarin commentary) | | | | | | | | | | |
| China | - | - | - | - | - | - | - | 14/5 @ 13:00 CST (Live) | - | - |
| FOX SPORTS 2 | | | | | | | | | | |
| USA | - | 12/5 @ 23:30 ET (Live) | - | - | - | - | - | - | - | - |
| FOX SOCCER PLUS | | | | | | | | | | |
| USA | 12/5 @ 06:00 ET (Live) | - | - | 13/5 @ 02:30 ET (Live) | - | - | - | - | 14/5 @ 02:30 ET (Live) | 15/5 @ 24:00 ET |
| ORBIT SHOWTIME NETWORK | | | | | | | | | | |
| Middle East | 12/5 @ 10:00 GMT (Live) | - | 13/5 @ 04:00 GMT (Live) | - | - | - | - | 14/5 @ 05:00 GMT (Live) | 14/5 @ 06:30 GMT (Live) | 15/5 @ 16:00 GMT |
| GEE - BOATS & CRUISES | | | | | | | | | | |
| Worldwide (excl. Aust.) | 12/5 @ 10:00 GMT (Live) | 13/5 @ 03:30 GMT (Live) | 13/5 @ 04:00 GMT (Live) | 13/5 @ 06:30 GMT (Live) | 13/5 @ 09:00 GMT (Live) | 13/5 @ 09:00 GMT (Live) | 14/5 @ 03:00 GMT (Live) | 14/5 @ 05:00 GMT (Live) | 14/5 @ 06:30 GMT (Live) | Yes |
| SKY SPORTS | | | | | | | | | | |
| New Zealand | - | - | - | - | - | - | - | 15/5 @ 24:00 NZT (Delay) | - | - |
| TSN2 | | | | | | | | | | |
| Canada | - | - | - | 13/5 @ 02:30 ET (Live) | - | - | - | - | 14/5 @ 15:30 ET (Delay) | Yes |
| TVNZ | | | | | | | | | | |
| New Zealand | 12/5 @ 24:00 NZT (Delay) | - | - | - | 14/5 @ 07:30 NZT (Delay) | 13/5 @ 21:30 NZT (Live) | 14/5 @ 15:00 NZT (Live) | 15/5 @ 00:10 NZT (Delay) | 15/5 @ 12:15 NZT (Delay) | 17/5 @ 16:05 NZT |
| VIASAT | | | | | | | | | | |
| Russia | 12/5 @ 13:00 MSK (Live) | - | - | 13/5 @ 09:30 MSK (Live) | - | 13/5 @ 12:30 MSK (Live) | 14/5 @ 06:00 MSK (Live) | - | 14/5 @ 09:30 MSK (Live) | 15/5 @ 16:00 MSK |
| WATCHAFL.AFL.COM.AU | | | | | | | | | | |
| Worldwide (excl. Aust) | 12/5 @ 10:00 GMT (Live) | 13/5 @ 03:45 GMT (Live) | 13/5 @ 04:10 GMT (Live) | 13/5 @ 06:35 GMT (Live) | 13/5 @ 09:25 GMT (Live) | 13/5 @ 09:25 GMT (Live) | 14/5 @ 03:10 GMT (Live) | 14/5 @ 05:15 GMT (Live) | 14/5 @ 06:40 GMT (Live) | - |