Record number of eyes set to be on Shanghai match
Friday, May 12 2017 @ 03:05 pm ACST
Contributed by: Troy Thompson
Views: 2,267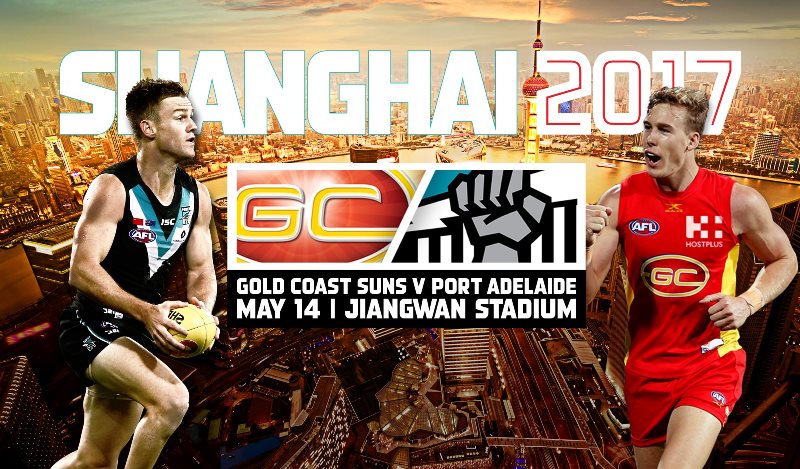 The AFL is pleased to confirm Chinese television networks, CCTV, Shanghai TV and Guangzhou TV, will broadcast Sunday's Round 8 Toyota AFL Premiership Season match at Jiangwan Stadium into mainland China, in addition to the Australia Plus Channel being available for pick up across China via satellite.
AFL General Manager of Clubs Travis Auld announced today the three free-to-air Chinese television networks will broadcast Sunday's historic match between the Gold Coast SUNS and Port Adelaide Football Clubs.
"I'm pleased to confirm that CCTV, Shanghai TV and Guangzhou TV, all free-to-air networks in China, will broadcast Sunday's Round 8 match from Shanghai," Mr Auld said.
"The combined potential audience across all Chinese television networks, along with our existing Australian and international broadcasters, means that Sunday's match in Shanghai is expected to be the most watched AFL game in history.
"We know that Sunday's match will be historic for a multitude of reasons, and with the match having the potential to be viewed more than any other in history is of particular significance to the AFL, the Port Adelaide Football Club and the Gold Coast SUNS.
"It's a privilege to host a premiership season match in China, where we know a lot of local fans will enjoy the spectacle of our exciting game live and showcased in one of the world's most exciting cities.
"I'd like to thank Australia Plus, CCTV, Shanghai TV and Guangzhou TV for their support in showcasing our exciting game to so many in mainland China," he said.
With the match to be broadcast on CCTV5+, the CCTV network provides a national broadcast into China, whilst Shanghai TV provides a host city broadcast and Guangzhou TV provides a broadcast into the local province.
CCTV, Shanghai TV and Guangzhou TV will all broadcast the match in local language.
The Round 8 Toyota AFL Premiership Match in Shanghai will also be available through Australian television broadcast partners the Seven Network and Fox Footy, Australian radio partners and on the AFL Live App thanks to Telstra.
AFL fans internationally can keep up to date with weekly matches on the Australia Plus network which is available for pick up across China on satellite or by subscribing to the Watch AFL app, only available to those outside of Australia. For more details on the Watch AFL app see our previous story.