First Vietnamese captain of Vietnam Swans on tour in China


Along with the debut of an AFL regular season match in China - there is also a lot of grass roots Asian footy going on to take advantage of this match as a chance to get together. The AFL Asia Shanghai Cup conducted yesterday - Saturday May 13th - took place at the Wellington College International Shanghai. Many of the players competing Saturday will likely attend the Port v Gold Coast clash today. One of the competing sides is the Vietnam Swans. And while for many people there is a view of expats dominating AFL in Asia - the Swans are among the growing band of footy outposts that are working at developing local footballers; and for the first time the Swans were captained by a Vietnamese local in Nguyen Quang Vinh.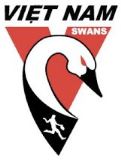 Swans stalwart Shane Macfarlane reports "We're very proud of our local player development with 6-7 local Vietnamese players regularly playing & touring (at our own cost - we subsidise all local players) with our senior team." The Swans with regular captain Bill Crang unable to attend - named Nguyen Quang Vinh as the acting Captain of the Swans for the tournament - the first local Vietnamese player ever to Captain the The Vietnam Swans.
"Vinh has amazing passion for the game, shows great leadership on and off the field and has picked up all of the required skills (perhaps thanks to his rugby background) incredibly fast and is a well deserved recipient of this honour."
More can be read on Vinh's story Swans Cap First Vietnamese AFL Captain – Nguyen Quang Vinh.
For the record congratulations go to 2017 Shanghai Cup winners Shanghai Tigers Australian Rules Football Club who defeated the Singapore Wombats in the Open Final, and the Malaysian Warriors Masters got up over the The Slugs in the Masters division.