2017 Port Moresby Round 4 and Round 5 results
Friday, June 02 2017 @ 09:56 pm ACST
Contributed by: Troy Thompson
Views: 3,096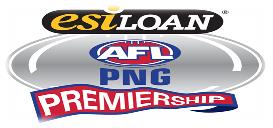 After five rounds of footy the Lamana Dockers lead the Port Moresby competition. Accounting for Concept Koboni in Round 4 and Oilmin Kokofas in Round 5 their unbeaten run continues. But the Cats trail them only by percentage as they defeated the Gereka Bombers and Concept Koboni in the two rounds.
The West Eagles did their percentage no harm with a big win over the last placed Defence Hawks in Round 5.
Below you can see all the scores from Round 4 and 5, and the ladder after round 5..
Round 4 I Saturday May 20th I COLTS Oval I Port Moresby
Cats 6.9.45 def Gereka Bombers 3.6.24
Lamana Dockers 7.5.47 def Concept Koboni 4.8.32

Round 4 I Sunday May 21st I COLTS Oval I Port Moresby
Gerehu Magpies 6.12.48 def Defence Hawks 2.1.13
West Eagles 5.4.34 def Oilmin Kokofas 4.7.31

Round 5 I Saturday May 27th I COLTS Oval I Port Moresby
West Eagles 13.10.88 def Defence Hawks 1.1.7
Lamana Dockers 5.5.35 def Oilmin Kokofas 4.7.31

Round 5 I Sunday May 28th I COLTS Oval I Port Moresby
Central Bombers 7.7.49 def Gerehu Magpies 5.3.33
Cats 7.5.47 def Concept Koboni 6.7.43

| | | | | | | | | | |
| --- | --- | --- | --- | --- | --- | --- | --- | --- | --- |
| Placing | Teams | P | W | L | D | F | A | % | Points |
| 1 | LAMANA DOCKERS | 5 | 5 | 0 | - | 322 | 110 | 293 | 20 |
| 2 | CATS | 5 | 5 | 0 | - | 228 | 162 | 141 | 20 |
| 3 | CONCEPT KOBONI | 5 | 3 | 2 | - | 310 | 169 | 183 | 12 |
| 4 | WEST EAGLES | 5 | 2 | 3 | - | 198 | 151 | 131 | 8 |
| 5 | GEREHU MAGPIES | 5 | 2 | 3 | - | 132 | 194 | 68 | 8 |
| 6 | GEREKA BOMBERS | 5 | 2 | 3 | - | 171 | 255 | 67 | 8 |
| 7 | OILMIN KOKOFAS | 5 | 1 | 4 | - | 180 | 162 | 111 | 4 |
| 8 | DEFENCE HAWKS | 5 | 1 | 4 | - | 91 | 311 | 29 | 4 |
This weekend's matches are
ROUND 6
Saturday 03rd JUNEICOLTS OvalIPort Moresby
Division Time Team Vs Team
Reserves 10:00 Defence HAWKS Concept KOBONI
Reserves 11:00 Central BOMBERS West EAGLES
WOMEN 12:00 Concept KOBONI Lamana DOCKERS
Seniors 13:00 Defence HAWKS Concept KOBONI
Seniors 15:00 Central BOMBERS West EAGLES
Sunday 04th JUNE ICOLTS OvalIPort Moresby
Division Time Team Vs Team
Reserves 10:00 Oilmin KOKOFAS Gerehu MAGPIES
Reserves 11:00 CATS Lamana DOCKERS
WOMEN 12:00 Gerehu MAGPIES CATS
Seniors 13:00 Oilmin KOKOFAS Gerehu MAGPIES
Seniors 15:00 CATS Lamana DOCKERS
Bye:Oilmin KOKOFAS (Women)